The Great War 1914 -1919
Morecambe and Heysham Peace Festivities.
How the Glorious Day was Celebrated.

The parade, photographed proceeding up Heysham Road towards Cross Cop, is led by 1st Sandylands (Heysham) Troop.
Note the tram lines in the road!
The flagbearer is Mr G S Evenden, first Secretary (1930), and later Chairman, of Morecambe Local Association.
Mr Evenden was an optician by profession, with premises in Yorkshire Street.
The webmaster recalls visiting him several years ago at his flat in Princes Crescent and hearing of his interesting experiences many years ago when visiting Tom Helme at his home at Springfield in Lancaster – now the site of developments at the Infirmary.
(Photo from an article in The Visitor May 26, 1999)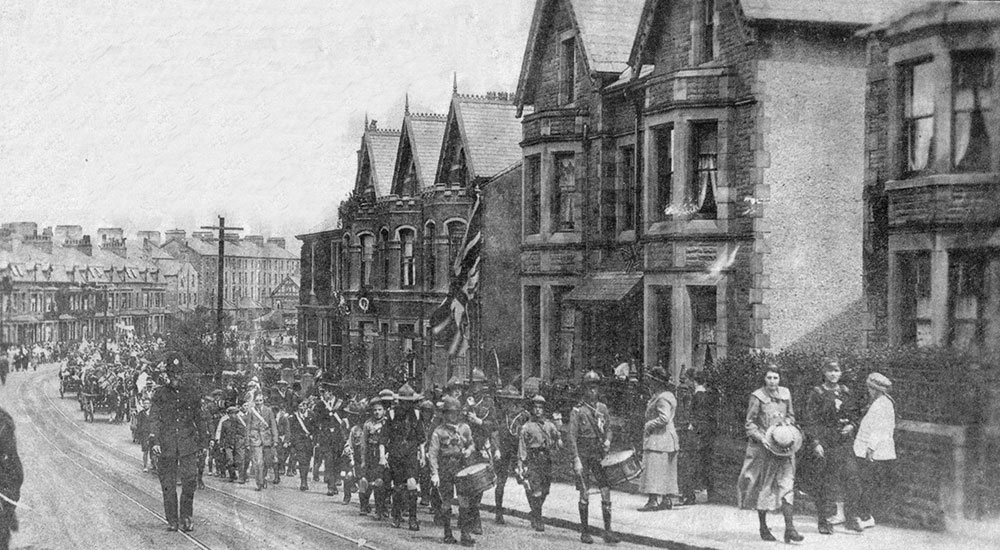 The same location in 2005, 86 years on . . .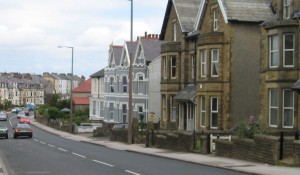 On the face of it remarkably little appears to have changed. But how times have moved on!
This would make a good examination question. "Two photos of a local street, one in 1919, the other in 2005. Little has changed – please discuss". (Subjects of interest that could be covered might include travel & transport, technology, diet, dress, morals, social responsibility, civic pride, sport & leisure, health, education, international affairs).
Click here to see reports from the Morecambe Visitor and Heysham Chronicle dated July 23, 1919 about the peace celebrations both in Morecambe and in Heysham.
Click here to see a report from the Morecambe and Heysham Times dated July 23, 1919 about the peace celebrations in Morecambe.