George Evenden was born 4 March 1902 in Saddleworth near Oldham a son of Thomas Green 1876-? and Elizabeth 'Ada' Burgess 1876-1960. In the 1901 census the family is living with Ada's parents at the Sun Inn, Denshaw, Saddleworth where Ada's father and husband are both publicans. In 1911 the mother and children were living at Yew Tree Farm, Cooper Lane, Blackley, Manchester where George's adoptive father Robert 'Edward' Evenden 1851-1935 gave his occupation as Egg and butter dealer. The children are listed as Sydney age 10 born Oldham and Stanley age 9 also born Oldham. The father spelt their name as Evendon. Robert had been born in Elham, Kent and his previous occupations had been as a joiner and 'Mechanical inventor'. According to records on line Robert spent some years in New Zealand appearing in electoral rolls from 1878-1882 and later living at Howe's Farm, New Town, Wellington from 1884-1890. He subsequently returned to live in the UK boarding ship at Victoria, Australia in 1897. From 1900-09 he appears in electoral rolls living at 144 Victoria Avenue, Prestwich and is listed as an Engineer. From c.1913 he is at 11 Windsor Terrace, Heysham Road, Heysham. Ada was born in Salford, Manchester. (There is a record on the Internet stating that Edward and Ada were married at St. Peter's Church in Heysham in 1899 and that Thomas 'Sydney', Stanley's brother, and himself were born in Heysham).

George was married twice, firstly to Emily 'Constance' Hobson at St. Peter's, Heysham in 1932.
Morecambe Guardian 24 June 1932:
"HELPED TO START TOC H
MR. G. S. EVENDEN MARRIED.
The wedding took place at Heysham Parish Church, on Wednesday, of Mr. George Stanley Evenden, the younger son of Mr. and Mrs. R. Evenden, The Keep, Heysham, and Miss Constance Hobson, third daughter of Mrs W. Hobson, and the late Mr. W. Hobson, The Garth, Heysham.
The Rector (the Rev. C. C. T. Royds, MA), conducted the service, and Mr. A. Peel was organist .
A CHARMING BRIDE.
Given away by her brother, Mr. G. W. Hobson, the bride was charmingly gowned in ivory crepe satin with yolk embroidered in pearl and diamante. (continues)
Mr. Leslie Gibson acted as best man, and the groomsmen were Mr. T. S. Evenden, Mr. W. Brown, Mr. J. Myers.
A reception was held at the Imperial Hotel, and later, Mr. and Mrs. Evenden then left by road for a honeymoon.
BRIDEGROOM'S PUBLIC WORK.
The bridegroom is one of the founders of the local branch of Toc H, and member of the executive committee of the local branch of the RSPCA, and secretary of the Morecambe and Heysham Boy Scouts Association."
Constance died in 1967. Secondly he married Kathleen Yates, probably his receptionist, in 1972 at St. Christopher's, Bare.
By profession George was an Optician (Ophthalmic & Dispensing) and had premises on Yorkshire Street in Morecambe for many years. In 1939 George and Constance were living at 39 Princes Crescent at Bare. His mother Ada was then at 381 Heysham Road, Heysham having formerly been recorded in the electoral registers in the 20's at 'The Keep', Heysham Road.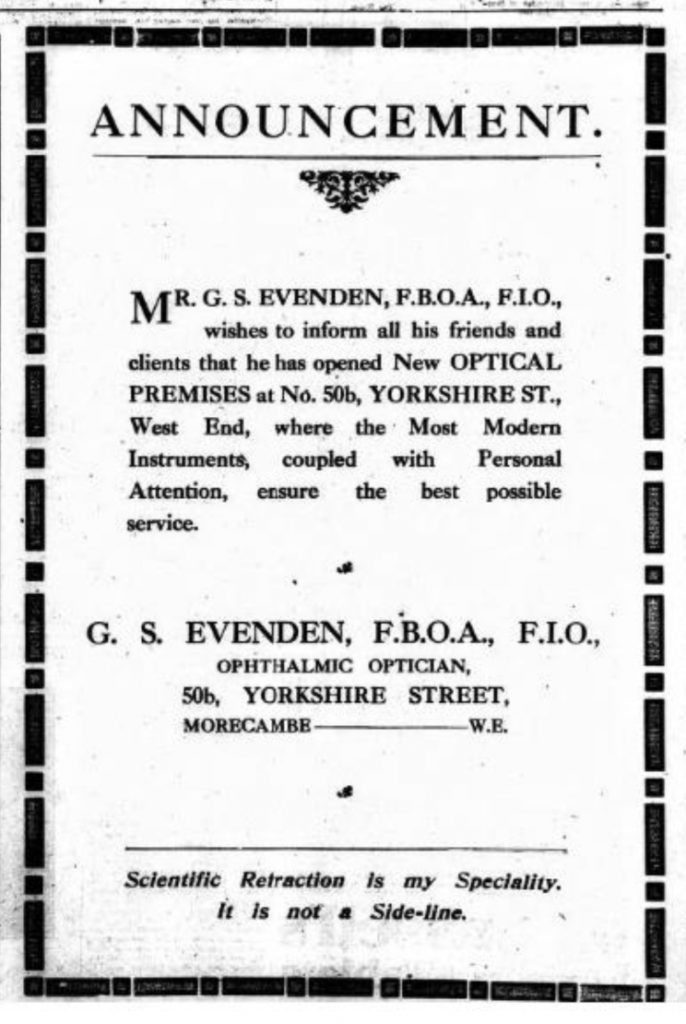 Advertisement, Morecambe Guardian 09 February 1924. George's Scouting experience had started as a Scout in the Sandylands Troop and in 1919 he proudly carried the Union flag at the head of the WW1 Victory Parade at Heysham. (In the 1911 census George's father-in-law Thomas Burgess had moved to Sefton Road, Sandylands, Heysham where he lists his occupation as Grocer provision dealer. The Evenden family presumably followed him to Heysham c.1913.
Later he was for many years an enthusiastic supporter of the Morecambe and Heysham and District Local Association being Secretary (1930) and subsequently Chairman.