OS map Heysham, 1913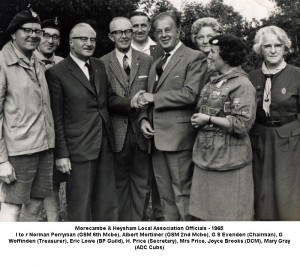 Mary Gray was born 22 May 1910 a daughter of Charles Gray 1879-1946 and Isabella Emmett 1879-1944 . They were married in 1904 at Holy Trinity, Morecambe.
In the 1939 Register (Findmypast) the family are farming at Lordsome Farm, Fairfield Road, Heysham. Charles is a Market Gardener and Farmer. Mary is recorded as a Horticulturist. Charles' father, also Charles 1831-1915, and a Market Gardener was born in South Damerham, Wiltshire.
Morecambe Guardian 11 May 1946:-
Obituary
MR. C. GRAY
A guard of honour was formed by the Northern Province Guild of Vergers, at the funeral of Mr. Charles Gray, of Lordsome Grove Farm, Heysham, Verger of St. John's Church, Sandylands, who died on Monday, aged 66 years, after an illness lasting three weeks.
A well known farmer in the district he was born in the lodge which was attached to the estate on which the present Tower Theatre stands, and watched Morecambe develop. He was a member of the Guild of Vergers. His greatest interests were his home and his church of which he was verger for 18 years. The loving care which he devoted keeping the church spotless and the courtesy and dignity which he showed at all times will long be remembered. His wife died about 18 months ago. He leaves two sons, James and Charles, and a daughter, Mary. He was buried on Wednesday, a service being held in St. John's Church, conducted by Canon E. Greenhalgh assisted by Rev. T. Cooper, in the Morecambe Old Cemetery. There were many floral tributes.
The earliest record that I have been able to find thus far concerning Miss Gray's involvement in Scouting/Guiding is in the Morecambe Guardian 10 December 1927 concerning a sale of work at St. John's Church, Sandylands where Miss Mary Gray (lieut.) along with Miss Marion Peel (patrol leader) are part of a group on the 'Girl Guides' Stall'.
By 1932 (Morecambe Guardian 09 December 1932) at another St. John's sale of work she is then 'Brownies Stall: Miss M. Gray (Brown Owl)'. Again at the 1933 St. George's Day Parade she is reported as 1a Heysham Brownies leader.
During the 1930's she was a regular performer with the St. John's Amateur Operatic Society.
In the Morecambe Guardian 18 November 1952 there is an article regarding a new Scout Hut being opened for the 5th Morecambe Group in Woodlands Drive, Heysham. "The old group hut, which belongs to Miss Mary Gray, of Lordsome Farm, who is the District Cubmaster, was only 30 feet by 15 feet, and was too small for the 107 scouts, senior scouts, and cubs in group." – Lordsome Farm was just across the road from the new hut.