Morecambe Visitor, March 1976
Sixty youngsters in Halton lost their meeting place and heritage on Saturday night when the Scout Hut in Foundry Lane was burnt to the ground.
The fire was discovered just before ten o'clock and took almost an hour to bring under control.
Four canoes, a dozen tents and camping equipment, and trophies and certificates won by the Scout group were destroyed, along with the building valued at £6000.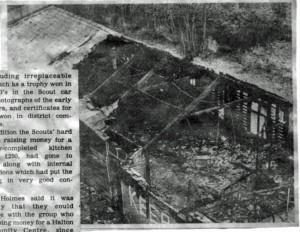 DAM
A Fire Brigade spokesman said that by the time they arrived, flames were coming through the roof, and trees and the nearby grass embankment were also catching alight.
Because of the isolation of the hut and the low pressure water supply, a stream had to be dammed up and a portable pump used to feed the four jets which were used on the blaze.
It is thought that the fire started in the cellar area at one end of the building, which had been broken into. Police are investigating the cause.
The Scout Group, which celebrated its 65th anniversary in February and whose Cubs celebrate their diamond jubilee this year, has been offered temporary accommodation in the church hall. Last night there was an emergency public meeting to decide what should be done for the future.
BEYOND REPAIR
Loss of the hut means that Halton no longer has any facilities for the youth of the village, and Group Scout Leader Mr. Dave Holmes is hoping that the Scouts and Guides (who meet in the school basement) will now get together to raise money for a shared building.
He said the gutted building, which was built in 1923 with a foundation stone laid by the Duke of Gloucester, and was originally used as a youth club, was completely beyond repair. The cost of replacing it would be in the region of £12,000.
Everything the Scout Group had was lost in the blaze— about £2,000 worth of property including irreplaceable items such as a trophy won in the 1930's in the Scout car race, photographs of the early members, and certificates for prizes won in district competitions.
In addition the Scouts' hard work in raising money for a recently completed kitchen costing £250, had gone to waste along with internal decorations which had put the building in very good condition.
Mr. Holmes said it was unlikely that they could combine with the group who are raising money for a Halton Community Centre, since between them they could not raise sufficient to provide big enough facilities for both.
The movement really needed a permanent home which they could use at any time for proficiency badge training and other events.
MODIFIED
The Community Centre, Halton's other hope for social and group facilities, whose foundations have been standing on a site between Low and High Road for about a year, has rather ground to a halt through financial problems.
Recently the committee met to discuss the situation and decided that instead of trying to apply for grants to complete the original proposals, they should modify the plans to provide a building costing about £6,000 which could be extended when money become available.
They thought grant aid to complete the project would be unlikely, in view of the Government cuts and it would be better to go for a smaller scheme in the first instance.
The Centre now only needs finance to put a top on the building, which already has foundations, water and electricity supply and mains drainage.
Work stopped last summer when the money ran out, but during the last few months a new committee, an amalgamation of the Community Centre Committee and the former Village Hall Committee, have been raising more.
Lancaster Guardian, 1 April 1938:-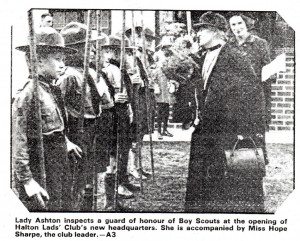 H.R.H. the Duke of Gloucester laid the foundation stone for the club building in 1937. Read here
Eleanor Jeane Hope Sharpe was born 20 January 1909 in Caton. Her father Lt. Col. Gerald Whittaker Sharpe, born 30 Aug 1878 in Lancaster, was an Assistant at an Oil Cloth Manufacturer. He was the son of Edmund Sharpe 29 Nov 1847-1925 of Halton Hall, Cotton and Oil Cloth Manufacturer. He, in turn, was a son of Edmund Sharpe 1809-1877 the noted architect, architectural historian, railway engineer, and sanitary reformer. Eleanor's mother was Margaret Annie Hope, born 23 September 1886 in Southport, one of the daughters of Charles Stead Hope one time vicar of Holy Trinity, Southport. In 1911 the Sharpe family was living at Yew Tree House, Caton.
Mother and daughter were widely travelled sailing to Rangoon in 1933 with Thos. Cook & Son Ltd., and Buenos Aires in 1935 when their address is recorded as 'Sheffelands S Gdns, Lancaster.'
Eleanor married Ian Charles Mcintyre Stevens "admitted King's College, Cambridge 13 Oct. 1924, is now a 2nd Lieutenant, 1st Royal Fusiliers, stationed at Ambala, India" in 1939 at Colchester. In the 1939 Register she is living at 111 Victoria Hotel, Victoria Road, Aldershot. She died in 1998 in the Crawley area.
Lancaster Guardian 08 September 1939:
Weddings of the Week
Stevens-Sharpe
Captain Ian Stevens, of Morrow Lane Farm, Ardleigh, near Colchester, was married at Colchester Register Office on Monday to Miss Eleanor Hope Jean Sharpe, only daughter of Colonel and Mrs. G. W. Sharpe, of Oak House, Silverdale.
The bride is actively associated with Halton Lads' Club, and to swell its funds her repertory company, "The Players," have from time to time produced plays including "The Scarlet Pimpernel" and " The Trial of Mary Dugan." Miss Sharpe has also been a member of the Lancaster Footlights Club. For the past year or so, Miss Sharpe has been working in London for the "Universal Aunts." The bridegroom is a captain in the Royal Fusiliers.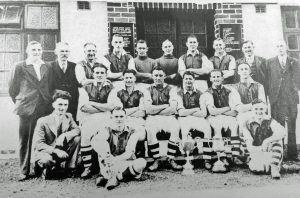 The Halton Lads Club Football Team 1937/38 outside the club building. Notice the acknowledgement panels either side of the entrance. Names that can be made out include: John B. Barber & Son, H.M.P., M. Seddon-Brown, Julia M. Cowper, Viscount Clanfield, Elizabeth Douglas, Geo & Jas Dowbiggin, CC Force, S Leighton & Sons Ltd . . .
Team -Standing: H. Burrow, George Addison, T. Makinson, Dick Dymock, Bob Wilkinson, M. Nixon, Tommy Fielding, Bert Greenall, E. Sharples, Bob Jones (Secretary);
Sitting: Frank Westby, J. Carney, Bill Young, Bill Craig, George Mount, Steve Carney, Bill Croft;
Front Row: George Addison, A. Clarke.