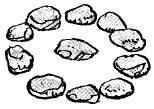 Sad news that Jimmy Bond- Scout Leader in the 35th Lancaster (St. Joseph's) group has died on Sunday 24th June. Jimmy had been suffering from Leukaemia but, after treatment, had been showing some improvement. Unfortunately he contracted pneumonia which proved fatal.
His funeral will take place on Thursday 5 July at 2.45 pm at the Lancaster & Morecambe Crematorium.
Family flowers only. Margaret would like donations to go to leukaemia charities and also Manchester & Blackpool hospitals.
Pat Griffin DC.