Lancashire Scout & Guide Orienteering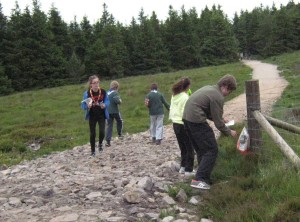 You are invited to bring your Group to the 2015 Annual Lancashire Scout and Guide Orienteering Championship.
Venue: Beacon Fell Country Park (PR3 2) [GR SD 564426 – Visitors Centre]
Date: Wednesday 1st July 2015
Times: Starts for the courses between 6.00 pm and 7.30 pm
Registration: Will be open from 5.30 pm
Courses: White:- Rainbows, Beavers, Brownies & Cubs
Yellow:- Guides under 13 and Scouts
Orange:- Guides over 13 and Explorer Scouts
Light Green:- Ranger Guides, Network Scouts and Leaders
Cost: £2 for Juniors and £4 for Adults which includes the hire of the SI card (Dibber)
Parking: This will be in the Car Parks near to the Beacon Fell Visitors Centre & Cafe (there may be a charge for the parking)
Entries: Would you please let me know the approximate numbers you are entering in each Category, the name of the Group plus a Leaders contact details as soon as possible so that sufficient maps are available. (Ideally please send this information by email)
Trophies and Certificates: Individual Trophies will be awarded to the winners of each category. Certificates will be awarded to the first 3 competitors in each category.
Will all trophy holders please ensure that all trophies are returned to me (Bob Nash) before or on the day of the competition.
If you have any queries please contact Bob Nash on 01772 721573 (answerphone) or email nash.family@talktalk.net
Any last minute changes to the event details will be posted on the SROC website at www.sroc.org either on the front page or by following the link to fixtures.