The next Annual General Meeting of Lonsdale District Scout Council (LDSC) is scheduled for Thursday 17 September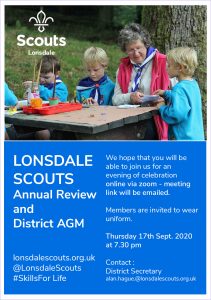 2020. The format and location of the meeting will be advised in due course.
Whatever the format of the meeting, LDSC members need to elect five members of the District Executive Committee (at least one of whom has to be a young person in the age range 18-25 years). For those interested in standing for election, an information sheet is available here.
*Membership of the District Scout Council.
Members of the District Scout Council are invited to nominate candidates by completing the Nomination Form available here.
Eligible candidates must:
be aged 18 years or more on 15 August 2020;
be a Member or Associate Member of The Scout Association registered in the District; and
if standing as a Youth Member, ideally not have reached their 25th birthday before 1 September 2021.
Completed Nomination Forms should be received by the Secretary no later than midnight on 15 August 2020. Note that the form has to be sent from one of the email addresses stated on the form.
If an election is necessary, the ballot will be held during the period 22 August to 11 September 2020. Note that if there is more than one Youth Member candidate, the one securing the most votes will be declared elected and any others will be ranked in order with the other candidates (to determine which other four candidates are to be declared elected).
Any clarification should be sought, in the first instance, from the District Secretary (alan.hague@lonsdalescouts.org.uk).
Tony Andrews
District Chair