February 1987.
A LARGE congregation attended the funeral at St Paul's Church, Scotforth, last Thursday of well-known Scouter Mr Tom Borrowdale who died suddenly, aged 66.
A King's Scout, he went on to be a Scoutmaster in Lagos while on war service, at Kirkby Lonsdale and at St Chad's, Skerton. He was a keen supporter of several Scout organisations, including the local band, gang show and district fellowship, served on the executive committee and was badge secretary.
The Scout movement awarded him the Medal of Merit for outstanding services and the long service decoration.
Mr Borrowdale, of Winchester Avenue, Lancaster, regularly attended St Paul's, where he was a sidesman and member of the stewardship men's visiting team. He also belonged to the Palatine Veteran's Club.
A former telephonist at Lancaster Moor Hospital, he leaves his wife, Rose — a former teacher at Moorside Junior School, Guider for many years who runs the division Guide Shop – a son and a daughter.
At the funeral service, which was followed by cremation, the Vicar, Canon Gordon Bellinger, paid tribute to Mr Borrowdale's services to many local community organisations.
Donations in his memory are for Lonsdale District Scout Jamboree Fund and Palatine Veterans' Club.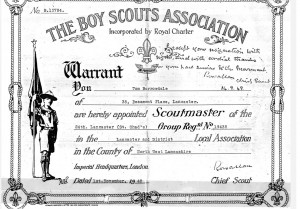 Tom was born 11 June 1920 a son of Robert James (born in Clitheroe 4.8.1890) and Sarah Jane Borrowdale nee Fisher. In 1939 the family was living at 35 Beaumont Place, Lancaster when Tom is recorded as an Apprentice Stockbroker's Clerk. Tom married Rosetta Beatrice Sandford in 1948.