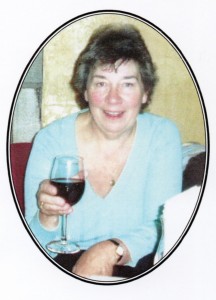 Message from Peter Eddowes:
Dear Craig,
We would like to thank the the whole of the Scouting Community, both in Lancashire and those from further afield who attended Margaret's Funeral.
Margaret will be missed by many leaving an empty space in our hearts and lives, however lots of wonderful memories of her will keep us smiling and help us through tough times. The overwhelming sight on the day, as everyone lined up was very very heart-warming. The number of people there, reflected the popularity that she had in the Scouting Movement and amongst friends.
As a lot of scouts have already said "..if it wasn't for Margaret, I don't think I would be in the scouts today.."
On behalf of all members and friends of the Eddowes family thank you all.
Kind regards.
Peter, David, Stuart Eddowes, and family
---
Dear All, 
It is with tremendous sadness that I write to inform you that Margaret Eddowes passed away earlier today. Margaret suffered a heart attack on Tuesday and sadly never recovered.
With over 40 years of exemplary service to Scouting, as a Cub Scout Leader, Trainer, Training Advisor, Group Committee Member, Nights Aways Advisor, Scout Active Support Member, shop volunteer, and managing our membership enquiries, Margaret demonstrated passion,great commitment and dedication to all areas of her Scouting. Her infectious enthusiasm had the ability to motivate and inspire adults and young people. Her sense of fun and adventure meant that there was never a dull moment when she was around. Her nurturing and supportive manner, coupled with her charisma and unfailing energy, ensured that thousands of young people got a better start in life, and she cared about each and every one of them.
Margaret lived by the values of Scouting, and she provided an example for us all, whether helping other groups on camps or supporting a new leader through training, leading a campfire or playing games with children. She was reliable, trustworthy, dedicated and a force for good in the World. But above all, Margaret was, quite simply, an incredible Cub Leader, who provided young people with the most amazing and unforgettable experiences. Something, I had the great privilege of experiencing first hand as a child. I have always been impressed by Margaret's ability to remember all 'her Cubs', what they were like, what they enjoyed and the many stories she had for each of them. We can be sure that each and every one of her Cubs remember her fondly and with great affection.
An over-whelming sense of loss will be felt by all those who knew and loved Margaret, her friends and family, 53rd Lancaster and all those who had the pleasure of knowing such a remarkable woman. I know you will join with me in offering them our support, thoughts and friendship at this difficult time.
For those wanting to pay their respects, I will write again once funeral arrangements are known.
Update.
Following the sad news that Margaret Eddowes had 'gone home', I write to confirm details of her funeral.
Margaret's funeral will take place at Lancaster and Morecambe Crematorium on Monday 30th March at 10.15am with a gathering afterwards at the Vale of Lune Rugby Club Greaves Park, Lancaster
Those attending are invited to wear Scout uniform should they so wish.
Kind Regards,
Craig Dewar
District Commissioner
Lonsdale District Scouts