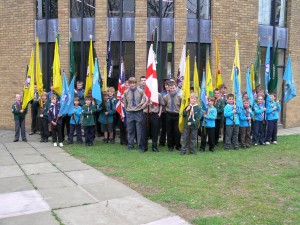 I am writing to confirm the arrangements for St. George's Day this year. I do hope you will support the event as this is the one opportunity this year, we have to bring the whole District together in celebration and provides us with an excellent public relations opportunity.
St George's Day – Parents Letter
The Core Details:
Date: Sunday 26th April 2015
Time: 11.45am for 12 midday Start
Scout's Own Venue: Muster on the promenade opposite Morecambe Town Hall at 11.45.
From here we will walk along the Promenade to the Winter Gardens for a Scout's Own that will start at 12.30 pm and finish at 1.15 pm .
Fun Day Celebration: After the Scout's Own we will move over to the grassy area next to the Midland Hotel, where the Dome used to be. This will be the venue for a full District fun-day. The fun day will finish at 4 pm.
Key Points:
All Groups will be asked to provide one base for the fun day. Group Scout Leaders will be contacted this week with a suggestion for a base for each group.
Please encourage parents to attend, however, they will be asked by marshalls to not walk with their group- instead asked to walk at the back.
Feel free to invite your Group Executive/ Group Supporters.
Please encourage the children to come in full, smart uniform. Leaders, this is our opportunity to lead by example, with shirts tucked in and award holders- please feel free to wear your awards.
The Scout's Own, led predominantly by young people will be suitable for all faiths, and those without faith.
A collection will be taken at the start of the service which will be donated to the Children's Ward at Royal Lancaster Infirmary.
As I said earlier, I do hope every Group will attend. Please could you inform me if this is not the case.
In the next few days a template for a letter that you can send to parents will appear on the website.
As ever, thanks for your help and support and I look forward to seeing you on the day.
With Best Wishes,
Fiona Wetton
Deputy District Commissioner