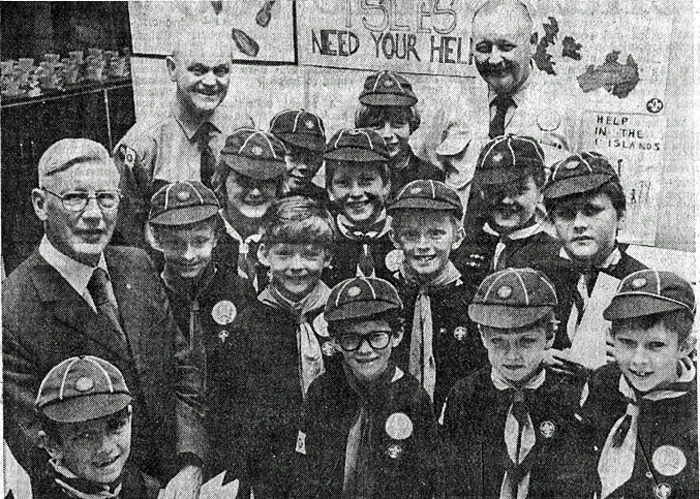 Harald Dahl (left), Bob Sharrock (centre) & Eric Wall (right)
Bob was initially an Assistant Scoutmaster at 16th Morecambe and later the first District Commissioner of Lonsdale from 1974.
Bob Sharrock C.Eng., M.I.GasE.
From 1967 he was Venture Scout Leader, Scorpio Venture Scout Unit, Torrisholme. District Commissioner Morecambe 1971–74. Asst. County Commissioner 1981-?
Bob was born in 1925 in Upholland (Orrell RD), a son of Joshua Sharrock b. 3 February 1894 in Upholland and Alice Mabel Mason b. 6 May 1893 in Lathom. They were married in 1920 at Omrskirk Register Office. In the 1939 Register the family was living at 121 Dragon Lane, Whiston when Joshua was a Coal Getter. Bob's siblings were Eric (1921) and William Brown (1927).
Bob married Dorothy Marsden in 1947 at St Ann's Church, Rainhill and they had four sons Robert, John, Jeremy and David.
Bob was Mayor of Wyre in 1998.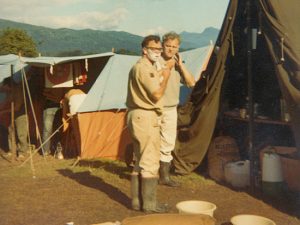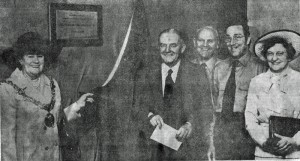 Garstang Courier 25 February 2015:
Bob Sharrock, a former mayor of Garstang and later Wyre, had a "secret" 90th birthday party arranged for him by his family. The "few friends" he thought he might be meeting turned out to be a capacity crowd of people in the Garstang Arts Centre building.
There was a PowerPoint presentation covering many aspects of his 90 years and also, all the traditional party aspects of food, cakes, and a toast.
Although not born in Garstang, Bob hailed from Upholland, near Wigan where his father was a miner and started his career working as an errand boy for the Rainhill branch of the Whiston Co-operative Society earning 11 shillings per week, all of which was given to his mother except one!
Bob saw active service in the RAF from 1943 and flew 28 operational flights and on returning went into the gas industry in 1947, rising to the position of technical industrial sales engineer with the North West Gas Board.
Bob's career brought him and his wife Dorothy to Garstang in 1982 and after settling in the town, both took their part in church life and the community, Dorothy joining the WI and Bob becoming a councillor.
The couple also continued their love of walking and hiking in the Lakes and undertook numerous civic duties; for in 1988 Bob was made mayor of Garstang and ten years later became mayor of Wyre.
After Dorothy's death Bob moved into Abbeyfield House, Garstang in 2011 and still takes an active part in many town events. On his motorised buggy he is so easily recognised.
There is so much I have gleaned from these four about Bob's life, his career, and his two mayoral years, that another major item and article may emanate from the pen of his former mayor's chaplain on some occasion.
The photo shows Bob and his four sons, Robert, John, Jeremy and David raising a 90th birthday glass to their dad.