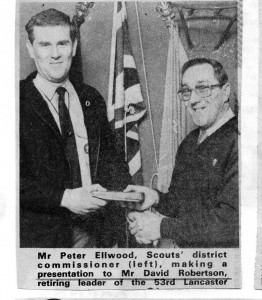 LOCAL Scouts have said a fond farewell to their leader, who has been at the helm for 22 years.
Mr David Robertson, of Keswick Road, Lancaster, decided to hang up his cap as leader of the 53rd Lancaster group to make way for a new man, Mr Paul Sargent, his former assistant.
"I joined the Cubs when I was eight and Scouting has been part of my life ever since. Leading the 53rd has been a really enjoyable time for me," he said.
At a surprise party at their Greaves Park headquarters, the group gave Mr Robertson a gift voucher for photographic equipment to aid his favourite hobby, a special fountain pen and a lighter. Making the presentation was his longstanding friend and Scouting companion, Mr Peter Ellwood, the Scouts' district commissioner.
"I thought I was just going along to help with the cooking and it turned into a farewell party," said Mr Robertson. After the speeches and gifts, everyone finished up with hot dogs and mince pies as part of the group's Christmas party.
The retiring leader contributed his love of photography to the life of the group, giving many slide shows to the Scouts over the years. "Whenever we went anywhere, especially camping, I always took my camera with me — I have quite a historical record of the group," he said.