December 12, 2000 | Cumbria County Publications (England):
SCOUTS in Carnforth have raised more than £1, 500 to help replace their old run-down hut with a brand new centre.
The 1st Carnforth Scouts are aiming to buy the leasehold for the land off Kellet Road where their hut is situated, and to build a new facility.
To help their appeal, they held a land sale, dividing the plot where the scout hut stands into sections, and inviting customers at the Booths store, in Carnforth, to bid for pieces of turf.
Booths donated a prize of £100 worth of shopping vouchers which was raffled for the cause, and the supermarket also donated £120 cash from a raffle it had held at the Burton show in August.
September 26, 2016 | Westmorland Gazette, The (Kendal, England):
A PAMPERING evening to help raise money for a new Scouts hut in Carnforth is to take place this Friday (September 30).
The event at the Ex-Servicemen's Club on Scotland Road is to feature the town's Gilded Dreams beauty salon and Kitty Brown Boutique.
1st Carnforth Scouts meet at North Road Junior School on Tuesday evenings. The troop, formed in 1928, has been granted planning permission to replace its old hut on a plot of land beside the canal.
December 3, 2018 | Westmorland Gazette, The (Kendal, England):
MP Cat Smith cuts ribbon at new Carnforth Scouts HQ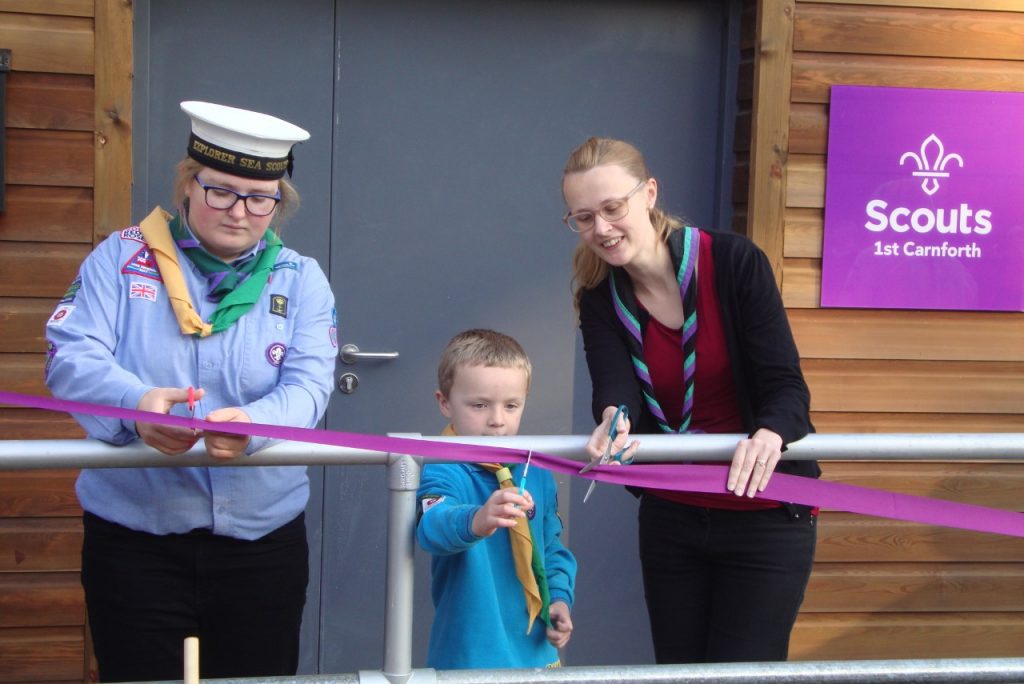 BEAVERS, Cubs and Scouts of Carnforth are celebrating the opening of their new £170,000 HQ.
Scouting ambassador Cat Smith, MP for Lancaster and Fleetwood, said it was a "huge privilege" to cut the ribbon at the "five-star venue" where generations of children would experience "so many adventures".
The MP posted on Facebook: "Huge well done to everyone who fundraised for this amazing venue which will soon also have its own climbing wall. It's amazing!"
The young members of 1st Carnforth Scouts are calling their purpose-built, eco-friendly home Base Camp. The wood-clad headquarters near the canal, off Kellet Road, has opened after years of fundraising efforts by the Scouts and local volunteers.
At the opening ceremony, 1st Carnforth Scouts were awarded the Commissioner's Commendation for "outstanding dedication and commitment to ensure Scouting has a home in the community for generations to come".
Rebecca Parker, the group's leader, said she felt "very proud" the dream had become a reality.
The Scouts have thanked everyone who worked on the fully accessible building, including local craftsmen, as well as all their supporters.
To find out more about 1st Carnforth Scouts, which welcomes girls and boys aged six to 14, visit www.facebook.com/1stCarnforthScouts/