Lancaster Guardian 21 July 1944
Miss Gladys Grosse, the Mayoress, presented the prizes to winners at the Swimming Gala of the Lancaster and District Boy Scouts Association in the Kingsway Baths, on Tuesday night.
The 20th Lancaster Troop, with 24 points, were the victors and Lancaster 21st a near second with 20 points. Carter, of the 4th Lancaster Troop, won the championship race of two lengths in fine style.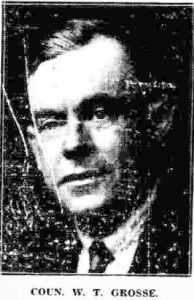 The Mayor (Coun. W. T. Grosse) opened the proceedings and was introduced by the District Commissioner, Mr. J. Dodds Drummond, and both he and the Mayoress were thanked for their attendance by County Commissioner T. W. Helme.
Apologies for absence were received from Dr. J. A. Tomb, Chairman of the Association, and Mr. James Green, Director of Education. Among those present were Miss M. Bond and Ald. I. J. Curwen.
PRIZE-WINNERS.
The results were as follows, the number following the name representing the Company:
Scouts' races: Ages 11-12, March, 13th; Sumner, 20th; Bowles, 21st; do. 13-14, Woods, 21st; Shipley, 4th; Fraser, 20th; do. 15 and over, Webb, 13th; Goodwin, 21st; Loxam, 13th. Back stroke, 11-12, Sumner, 20th; Airey, 13th; Shilton,20th; do. 13-14, Fraser, 20th; Woods, 21st; Perren, 20th; do. 15 and over Webb, 13th; Simmance, 20th; Auerbach, 20th. Life-saving test, 20a beat 20b; two lengths championship, Carter, 4th; Shipley, 4th; Pye, 21st; neat dive, Shipley 4th; Loxam, 13th; Lunman, 21st. Squadron race, 1, 21st, 2 20th; 3, 13th.
CUBS' EVENTS.
Cubs' results were: Neat dive, Yates, 20th; Bleasdale, 21st; Humpage, 21st. One breadth for Cubs unable to swim a length, Haworth, 20th; Hartley, 21st; Humpage, 21st; One length, Barnes, 5th; Barrow,20th; Gotzl, 20th.
The officials of the Lancaster Swimming Club were thanked for their great help in arranging and judging and stewardship. Mr. J. Cole was the starter.