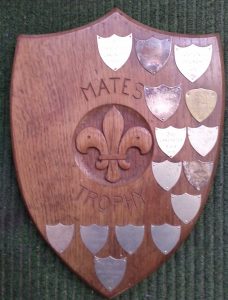 The "Mates Trophy" appears to have first been competed for in 1972. It was presented to the winning Troop in the annual Scout Sports Competition – the one that had gained the most points in all the various events. These included all the usual running and field events.
Looking at the shields on the trophy the past winners have been:-
1972 23rd Lancaster
1973 Forton
1974 & 75 Caton Church
1976 Forton
1977 53rd Lancaster
1978 16th Morecambe
1979 3rd Lancaster (RGS)
1980 53rd Lancaster
1981 Caton Church
1982/83/84 16th Morecambe
1985 Jt Halton/16th Mcbe
1986 16th Morecambe
1987 Halton
Newspaper reports indicate that both Lancaster and Morecambe had had Scout Sports competitions previous to 1972. A report in the Morecambe Guardian of 22 July 1939 records that the event that year was the 15th annual competition.
So far I have found reports of winners in Morecambe as follows:-
1935 Clydebank (Visiting Troops camping in Morecambe were invited to take part)
1939 1st Morecambe
1948 5th Morecambe (Driver shield, Indoor)
1951 4th Morecambe; Under 15 5th Morecambe SS
1953 4th Morecambe ('Hambone' Trophy)
1956 2nd Morecambe (Salvation Army); Senior Scouts 5th Morecambe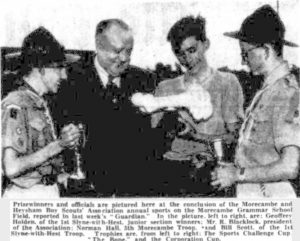 and in Lancaster:-
1932 4th Lancaster
1941 25th Lancaster/62nd Salford (these were evacuees from Salford during WW2); Cubs 21st Lancaster (Greaves)
1943 21st Lancaster Sea Scouts; 21st Lancaster Cubs Cup
1948 5th Lancaster Cathedral (82nd Admiralty Unit) (Scouts); 20th Lancaster (Friends) (Cubs 10-11, Kennedy Cup), 16th Lancaster (St. Paul's) & 21st Lancaster (Bowerham C.C.) jt winners 8-9 Athletic Shield.