Preliminary Training.
(a) The recruit should find out about the adventurous life and achievements of our Founder, and something of the history of the movement. (Note: This will not be tested.)
(b) Know the Scout Law and Promise and their meanings in accordance with his age.
(c) Know the salute as given in Camp Fire Yarn 3 of Scouting for Boys.
(d) Know the composition of the Union Flag and how to hoist, break and fly it.
Health.
The recruit should be able to clean a wound, and make and apply a dressing.
Observation.
Make the woodcraft signs given in Camp Fire Yarn 4 of Scouting for Boys.
Pioneering.
Demonstrate how to make the following knots: reef, sheet bend,clove hitch, bowline, round turn and two half hitches, sheepshank, and explain their uses. Whip the end of a rope.
THE SCOUT LAW
(1) A Scout's Honour is to be Trusted.
(2) A Scout is loyal to the King, his country, his Scouters, his parents,his employers, and to those under him.
(3) A Scout's duty is to be useful and to help others.
(4) A Scout is a friend to all, and a brother to every other Scout no matter to what country, class, or creed, the other may belong.
(5) A Scout is courteous.
(6) A Scout is a Friend to Animals.
(7) A Scout obeys orders of his parents, Patrol Leader, or Scoutmaster, without question.
(8) A Scout Smiles and Whistles under all Difficulties.
(9) A Scout is Thrifty.
(10) A Scout is Clean in Thought, Word and Deed.
The Scout Promise.
"On my honour, I promise that I will do my best
To do my duty to God, and the King
To help other people at all times
To obey the Scout Law."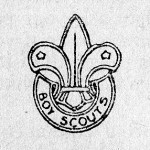 From: FIRST STEPS IN SCOUTING – HOW TO PASS TENDERFOOT AND SECOND-CLASS TESTS.
PRICE 9d.
Compiled by IMPERIAL HEADQUARTERS, BOY SCOUTS ASSOCIATION, LONDON
REPRINTED – 1946
GLASGOW
BROWN, SON & FERGUSON, LTD., 52-58 DARNLEY STREET