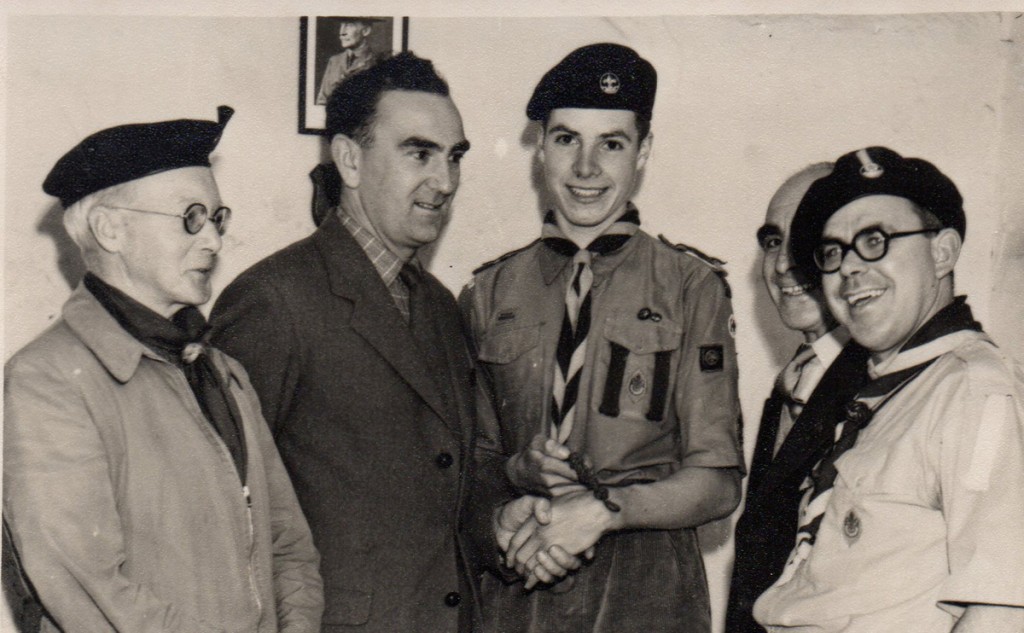 Malcolm Bishop Queen's Scout 1958 – Photo shows l to r: R.E.Wright, Maurice Sharpe, Malcolm Bishop (13th Lancaster), Jack Bishop, Frank Hayton
Maurice Sharpe was born in Blackpool on 27 June 1920. He was one of three sons born to Allan Duffin Sharpe & Ada Hayward née Lumber. She was born on 14 December 1889 in Runcorn, Cheshire. His brothers were Sidney (b. 1922) and Norman (b. 1926).
Allan's father, and Maurice's grandfather, Samuel Sharpe was a journalist and advertisement specialist by profession. He had been born in Pudsey, Yorkshire in 1868 and married Mary Jane Duffin in 1890 at St Martin's Church, Potternewton, Leeds.
In the 1911 census the family were living at 11 Wyre Grove, Blackpool along with Allan's brother Maurice Edward Sharpe (b. 1901 in Colne). Allan was born 3 October 1891 in Bowness, Westmorland.
Can you spot Maurice in these photos of 4th Lancaster. taken outside Springfield Hall. in the District archives?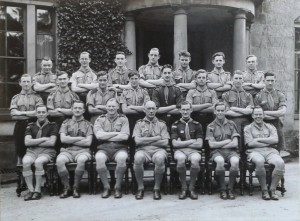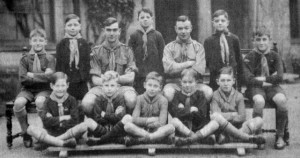 In 1939 the family were living at 107 Ashton Drive, Lancaster. Allan's occupation is listed as Printers Works Manager/letterpress; he is also an Air Raid Warden. Maurice is a Printers compositor letterpress and is shown as Cub Master (Boy Scouts).
Maurice's father was tragically fatally injured in 1943 whilst blackberrying with a party of Scouts on Warton Crag.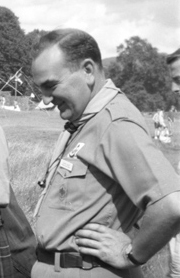 Maurice was at one time a Commissioner in Lancaster and in the County and in his Will he left a bequest for the benefit of Scouts in the local area that today forms the "Sharpe Bequest".
Maurice was awarded the Silver Acorn in 1967.