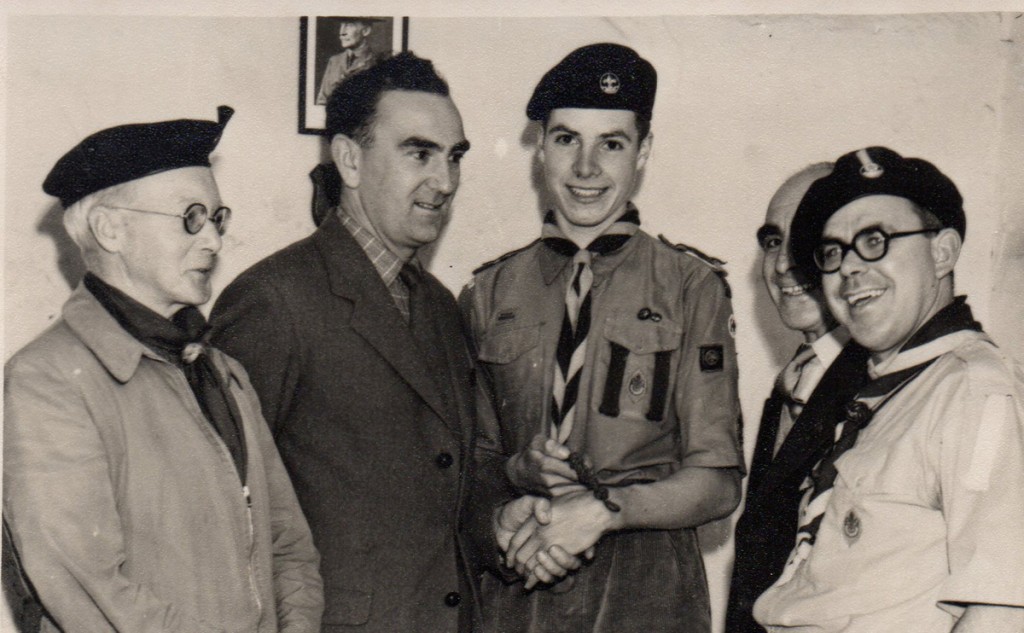 Malcolm Bishop Queen's Scout 1958 – Photo shows l to r: R.E.Wright, Maurice Sharpe, Malcolm Bishop (13th Lancaster), Jack Bishop, Frank Hayton
Maurice Sharpe was born in Blackpool on 27 June 1920. He was one of three sons born to Allan Duffin Sharpe & Ada Hayward née Lumber. She was born on 14 December 1889 in Runcorn, Cheshire. His brothers were Sidney (b. 1922) and Norman (b. 1926).
Allan's father, and Maurice's grandfather, Samuel Sharpe was a journalist and advertisement specialist by profession. He had been born in Pudsey, Yorkshire in 1868 and married Mary Jane Duffin in 1890 at St Martin's Church, Potternewton, Leeds.
In the 1911 census the family were living at 11 Wyre Grove, Blackpool along with Allan's brother Maurice Edward Sharpe (b. 1901 in Colne). Allan was born 3 October 1891 in Bowness, Westmorland.
Can you spot Maurice in these photos of 13th Lancaster, taken outside Springfield Hall, in the District archives?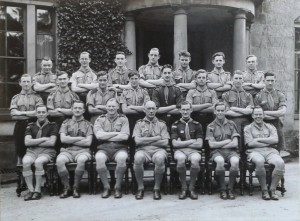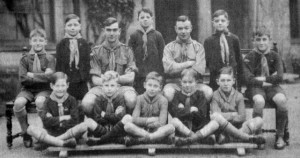 In 1939 the family were living at 107 Ashton Drive, Lancaster. Allan's occupation is listed as Printers Works Manager/letterpress; he is also an Air Raid Warden. Maurice is a Printers compositor letterpress and is shown as Cub Master (Boy Scouts).
Lancaster Guardian 28 February 1941:-
On Sunday, Rovers at the Den (Littledale), welcomed Maurice Sharpe, now of the Crew, now serving in the R.A.F., who paid a surprise visit.
Maurice's father was tragically fatally injured in 1943 whilst blackberrying with a party of Scouts on Warton Crag.
Lancaster Guardian 19 December 1952:
SCOUTING NOTES.
Senior Scouts under their leader Scoutmaster (S.) Maurice Sharpe have been busy putting in a lot of work at the new headquarters in Moor Lane, and at the country training den at Artleden.
Activity by the Group Committee has resulted in a series of successful whist drives to augment the funds to carry out alterations and repairs to the Moor Lane Den.
Akela.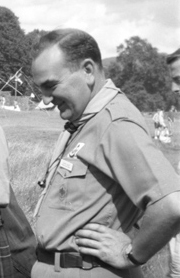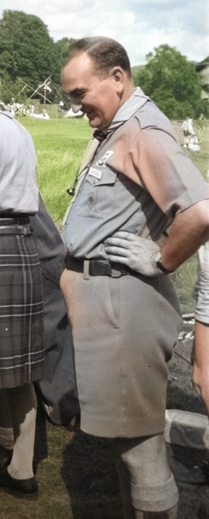 Maurice was awarded the Silver Acorn in 1967. He died 15 February 1989.
Maurice was at one time a Commissioner in Lancaster and in the County and in his Will he left a bequest for the benefit of Scouts in the local area that today forms the "Sharpe Bequest".
England & Wales Government Probate Death Index
SHARPE, Maurice Hayward of 5 Kendal Dv Torrisholme
Morecambe Lancaster died 15 February 1989 Probate
Liverpool 2 May £478038 8980801498Q
Fell lover's bequest helps Lakeland paths repairs – 11 December 2007
Lakeland walkers will find the going a little easier, thanks to a bequest from a lover of the fells.
Two paths have been repaired, using money from a substantial legacy left to the Ramblers' Association (RA) in the will of Lancaster man Maurice Sharpe. The Hole Rake route from Tilberthwaite to the Coppermines Valley of Coniston has been restored after a pounding from thousands of boots.
400m of the 3.5km route have been restored. Damaged drains had led to erosion of the historic route, formerly used by mineworkers but now a major high-level link between the Coppermines and Tilberthwaite Gill. More than £2,000 from Mr. Sharpe's bequest has been spent on the £6,500 project. Money from the legacy, which was to maintain fellwalkers' freedom in the Lake District, was also used recently for repairs to a path between Hayeswater and the Knott in the High Street range.
Tony Rogers, the RA's area footpath secretary, said: "We are pleased to use some of the Sharpe fund money as a contribution to Fix the Fells projects."
Fix the Fells project adviser Richard Fox said of the Hole Rake renovation: "Work has centred on stabilising eroded earth and reinstating critical drainage. Walkers will now be able to enjoy this beautiful area with the added advantage of a vastly improved route."
"We are very grateful to the RA, which has given us money to mend a path annually for the last five years. This commitment from such a high-profile 'user' organisation is fantastic." The Fix the Fells scheme is backed by the Lake District National Park Authority, National Trust and Natural England.