The Lancaster Guardian and Observer, Friday, 15 August, 1947:-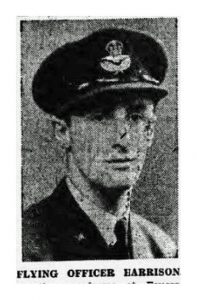 WAR CASUALTY
Flying Officer M. G. Harrison, Lancaster
Official confirmation has just been received from the R.A.F. Missing, Research and Enquiry Service, that Flying Officer Maurice George Harrison, eldest son of Mr. and Mrs. F. C. Harrison, of 32 Coulston Road, Lancaster, who was reported missing on July 6th, 1944 was killed on that date, after an attack on the aerodrome at Feuersbrunn.
A report now states that his aircraft crashed at Innerhalbach, five kilos south of Kleinzell, but owing to the severe nature of the crash the German authorities could not identify him, and he was laid to rest with eleven of his gallant comrades at the Kleinzell Cemetery. He has now been identified by the number of the 'plane. In accordance with H.M. and Dominions Governments his body has been re-interred in the special British Military Cemetery at Klagenfurt.
Educated at Lancaster Royal Grammar School, where he was head boy during his last year, Flying Officer Harrison went straight to Cambridge under the R.A.F. Universities scheme, and later gained his wings in America. In May, 1943, he was appointed a life member of the Goldfish Club, by escaping death by the use of his emergency dinghy and spending 12 hours on the water. In civilian life he was a keen Scouter, and a King's Scout in the 13th Lancaster Troop. He was also an enthusiastic member of the Lancaster Amateur Swimming Club, for which he swam in the medley and squadron races, and played water polo.