Lancaster Guardian 05 January 1945:-
In Flying Accident
P.O. Pilot (Temp.) Frank Atkinson, Fleet Air Arm, the 20-years-of old son of Corpl. and Mrs. F. Atkinson of 5 Wenning Place, Lancaster, is reported missing, presumed killed following an accident.
Born in Toronto, Canada, he was brought by his parents to Lancaster during his childhood, and was educated at the Lancaster Royal Grammar School. Subsequently he became assistant manager at Messrs. Woolworths Store, in Penny Street, afterwards joined HM forces, and qualified as a P.O. Pilot in Kingston, Ontario.
He was a Patrol Leader in the 13th Lancaster Scouts and a Sea-Scout when he joined up two years ago on the day following his birthday. He is a member of the Life Saving Society, and holds both the bronze and silver medals, as well as the instructor's certificate in swimming.
After gaining his School Certificate he passed through the O.T.C. at the Grammar School. His mother, who was formerly a professional actress, and appeared frequently in theatres in the North-West, is a member of the Lancaster Amateur Dramatic and Operatic Society.
Corpl. and Mrs. Atkinson have received most sympathetic letters from their son's Commanding Officer and Chaplain, in which they are also referred to his excellent qualities as a young man and Serviceman. A tribute to him was also paid in a letter from Messrs. Woolworths, in whose employ he has been succeeded by his brother.
Lancaster Guardian 22 February 1946:-
LOCAL ROLL OF HONOUR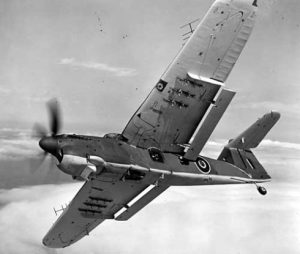 Mr. F. Atkinson, of 5 Wenning Place, Lancaster, has received official notification that his elder son, Acting Petty Officer Pilot (temporary) Frank Atkinson, Fleet Air Arm who was reported missing on December 21, 1944, must now be presumed to have lost his life in a flying accident when carrying out a high bombing exercise on Port Soderick bombing range in the Isle of Man. The Barracuda aircraft, in which he was operating, commenced diving at an altitude of 5,000 ft, at an angle of approximately 50 degrees, and during the dive, one wing was seen to break off the aircraft, which crashed into the sea. His body has not been recovered.
P/O Atkinson joined the Forces in 1943, and received his training in Canada. He was formerly assistant manager of the Lancaster branch of Messrs. F. W. Woolworth Ltd. Educated at the Royal Grammar School, he was a member of the 13th Lancaster Boy Scouts and being a keen swimmer, held a life-saving certificate. He was 19 years of age.