Lancaster Guardian 15 January 1937:
WITH TROOP, PACK AND CREW
The 4th Lancaster Rover Crew entertained their Wolf Cub Pack to a jolly party in the Sulyard Street Schoolroom on Saturday afternoon. It was a happy thought, too, to include in the invitation about twenty boys from needy homes, whose names were supplied by "Father Christmas."
Following energetic and amusing games, tea, sandwiches and cakes, temptingly prepared and served by the Ladies' Committee, were most welcome.
A cinematograph entertainment of comedy films operated by Scoutmaster Fred Driver, of Morecambe, was thoroughly enjoyed.
Fruit was served to each of the young guests at the close.
FOOTBALL.
R. A. "Bob" Atkinson, a member of the Vale of Lune RUFC, who has secured a place in the Lancashire County Rugby fifteen and has figured in all their matches this season, is the Cubmaster and a member of the 13th Lancaster Rover Crew.
It is interesting to note that Messrs. Nicholson and Yates, also of the 13th, and Bailey of the 4th Lancaster Rover Crew, are playing members of the Vale teams, whilst District Commissioner T. W. Helme is the President of the Club.
Scoutmasters who made application for grants under the Lancaster Education Committee's scheme for elementary schoolboy scouts attending summer camps during 1936, please note that these have now been passed. It will greatly assist the Local Association Treasurer, Mr. J. G. Swainson, of 30, Cable street, if Scoutmasters will call early and claim their dues.
LECTURE-THANKS.
Members of Troops, Packs and Crews who attended Chief Os-Ke-Non-Ton's lecture in the Ashton Hall last Saturday, are unanimous in their thanks to the Chief for a delightful evening, and to Miss Hope Sharpe for making such a treat possible.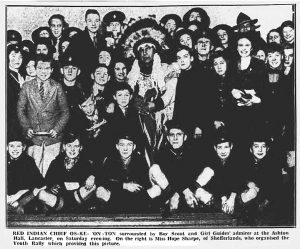 PATIENT BETTER.
There is better news this week of Mr. Wilf. Greenwood who is in Ward 2 of the Royal Lancaster Infirmary, following his recent accident. He is quite comfortable and more cheerful . Mr. Greenwood, who is the Assistant Cubmaster of the 16th Lancaster (St. Paul's) Pack and a popular 13th Rover, is grateful for kind enquiries made and for letters received .
"PARLIAMENT" POSTPONED.
The Patrol Leaders Parliament arranged for tomorrow (Saturday) at the Friends' School, has been postponed until January 30 . Place and time will be made known later. — AKELA.