To: All members, Lonsdale District Scouts
p.s. Aileen's funeral will be held at Cockerham Parish Church St Michael's and All Angels at 11am on 8th July. There will be a gathering after the service in the village hall.
Mike is happy for Scouters to wear uniform if they want to.
It is with great sadness that I have to report the passing after a long illness of our fellow Scouter Aileen Newby.
Aileen's service to Scouting was of the most exceptional nature, recognised by being awarded 'The Silver Acorn" in 2012 and the 50 years service award last year. Almost all Aileen's service was with Caton Church Group having been at one time or another Assistant Cub Scout Leader, Cub Scout Leader, Scout Leader and Group Scout Leader – an amazing record of continuous service.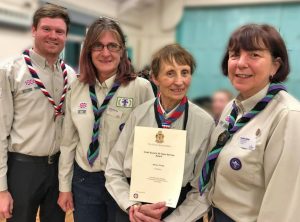 Our thoughts and condolences are with Aileen's family, colleagues and friends at this time.
I know many of you will want to pay your respects and I will write again when funeral arrangements are known.
Mandy Sweet
District Commissioner
Lonsdale District Scouts