Bob-a-job week, where boy scouts lent a helping hand to their local community for a modest payment – may be resurrected next year.
For four decades after the end of the Second World War, scouts offered to carry out a range of jobs in the community, such as cleaning people's cars, helping the elderly with their shopping and even sprucing up jumbo jets at Heathrow.
However, it all died out in the 1990s due to health and safety restrictions, as it became increasingly impossible for the scouts to organise the many local fundraising activities which involved young people acting on their own without the support or supervision of a responsible adult.
ADVERTISING
But the Scout Association is investigating the feasibility of launching a successor to Bob-A-Job week, placing more emphasis on youngsters learning apprentice-style entrepreneurial skills.
The idea is the brainchild of Richard Harpin, chief executive of the emergency insurance company Homeserve and a "scouting ambassador".
"We want to relaunch Bob-A-Job week in a new form," he said. The scheme is being dubbed the Scout Community Challenge.
"We want young people to come together as teams, rather than working individually – it's about putting scouts back at the heart of the community," he explained.
A spokesman for the Scout Association said: "Although Scout Job Week has not been a feature of Scouting life since the mid 1990s, the organisation has never lost its desire and commitment to help others. We are in the process of looking at the possibility of setting up a successor to Scout Job Week in the spring of 2012.
"What we are sure of is that there is a need to give young people opportunities to contribute in a positive way to their local communities and to become active citizens.
"We also feel it's important to reconnect people across the generations and ensure young people interact with others from across all age ranges." When Prime Minister David Cameron launched his idea for the "Big Society", the scouting movement was cited as one of the inspirations of the idea, with its stated creed of providing service to the community.
"At the Scouts, we're always looking for ways to have even more effective engagement with the diverse communities in which we operate," said Derek Twine, who is chief executive of the Scout Association.
Scout Job Week was first launched in 1949. This year saw the movement's membership rise for the fifth year in succession.
Currently, the Scout Association provides adventure activities for around 500,000 young people aged between six and 25 across the United Kingdom.
The Independent -Monday 27 December 2010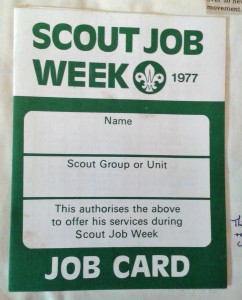 See also Scouts' Job Week 1949 and 1950