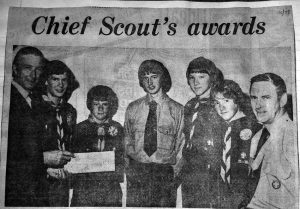 MEMBERS of the 53rd Lancaster (Bowerham Road) Scout group, received Chief Scout's award certificates last Thursday at a ceremony at the Lancashire College of Agriculture, Myerscough.
The certificates were presented on the Chief Scout's behalf by County Councillor M. J. Fitzherbert-Brockholes, Vice Lord-Lieutenant and chairman of the County Education Committee.
The picture shows County Councillor Fitzherbert-Brockholes (left) and Mr R. H. Sutton, County Commissioner for Scouts (right), with M. M. Guenault, of Bowerham Road; G. J. Johnstone, of Winchester Avenue; P. Sargent, of Bridge Road; R. D. Renwick, of Newlands Road; and G. Draper, of Parkfield Drive.