District Commissioner Appointment – Lonsdale District Scouts
Lonsdale District Scout Council Members
You are aware that Craig Dewar-Willox's term as District Commissioner (DC) is coming to an end after guiding the District through a very busy period over the last five and a half years. He has accomplished a great deal during his tenure. Over recent months Tony Andrews has chaired a search group on my behalf to make recommendations on potential successors. Tony and his team have done an excellent job and were able to provide me with a shortlist of outstanding candidates to consider for the role of DC.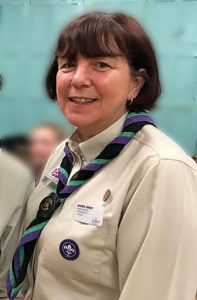 I am delighted to announce that Mandy Sweet has accepted my offer to become the next District Commissioner for Lonsdale District Scouts. She will formally take on the role on the 6th January at the Good Service Awards celebration. Mandy is well known to many of you across Lonsdale District: from her various roles as ADC Cubs, Deputy DC, GSL and of course from her time working at Waddecar. She understands and cares deeply about Scouting in Lonsdale and has the skills and experience to lead the District in the years ahead. Please note that Craig will remain in post until the 6th January.
Mandy will be supported by a team of excellent Deputy District Commissioners (Andrew Blenkinship, Catherine Marsh and Jon Minshull) who will support the transition and support Mandy in building her team.
May I take this opportunity to thank Tony Andrews and the team for their efforts and contributions to this important selection process and thank everyone who has taken part. A job very well done, thank you!
I'd also like to thank Craig; there are no words which can summarise Craig's term as District Commissioner – fulfilling the role very proficiently, he is simply an inspiration. Craig has already started in his new Scouting role as Deputy County Commissioner and I am really pleased that he has done so.
Finally, I wish Mandy and the District well, I believe Lonsdale is in an excellent position with a very bright future.
Yours sincerely
Steve Morton
County Commissioner