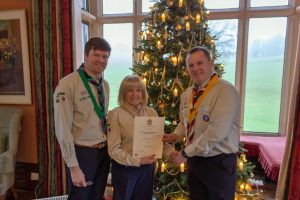 The Lonsdale District Scouts Adult Awards Ceremony took place on 6 January 2019 at Leighton Hall, courtesy of our District President Suzie Reynolds, in the presence of Andrew Corrie (Regional Commissioner), Steve Morton (County Commissioner), and Gail Stanley (County President).
The Reception is a chance for us to mark the achievements of those members of Lonsdale District Scouts who have been awarded a Good Service Award in 2017/2018.
Awardees attending on this occasion were :-
Chief Scout's Commendation for Good Service
Suzie Reynolds, Lonsdale District
David Saul, 5th Lancaster (Cathedral & St. Bernadette's)
Dan Rawes, 35th Lancaster (St. Joseph's)
Steph Stephenson, Discovery ESU
Tom Law, 53rd Lancaster
John Elliot, 1st Halton
Lynn Dewar, 53rd Lancaster
Rebecca Parker, 1st Carnforth
Award for Merit
Stewart Clarke and 30 Years LSA, 35th Lancaster (St. Joseph's)
Darren Phillips, Galgate
Scott Duncan, Lonsdale District
Length of service awards
Howard Greenwood – 40 years, 1st Warton
William (Jim) Holland – 40 years, 16th Lancaster (St. Paul's)
Congratulations to them all.
Please find below a link to the photographs which were taken during the event by Jon Minshull, Deputy District Commissioner.
https://westlancsscouts.smugmug.com/Awards/Lonsdales-Adult-Award-Ceremony/