To: All Members, Lonsdale District Scouts.
Arrangements for St. George's Day, 28th April 2019
I am pleased to announce the arrangements for St. George's Day this year. I hope you can attend and support the event as this is a huge opportunity to bring the whole District together in celebration and provides us with an excellent public relations opportunity.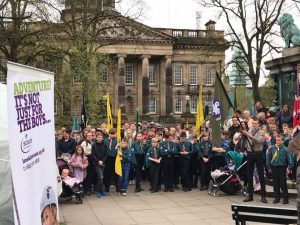 The Core Details:
Date: Sunday 28th April 2019
Time: 10:45am meet for 11:00am start
St. George's Day 'Scouts' Own':
Assemble on the Promenade by the Battery (Sandylands Promenade Car Park) 10:30am
From here we will walk along the Promenade to the old Dome location for our St. George's Celebration and Scouts' Own that will start approximately 12:00pm and finish around 12:30pm
(see map below for route details)
Celebration:
During the march from the Battery to the Dome we will follow the well-known loud and fun Batala band.
Key Points:
All Groups are asked to represent and display/carry one badge to demonstrate our Scouts #SkillsForLife while marching (see attached Group list for the badge you are asked to represent).
Please invite and encourage all members of your Group including Group Executive, supporters, parents and families to attend and support the event.
All Scouting members should attend in full and smart uniform, all award holders are encouraged to bring and wear your awards with pride.
Groups are responsible for any first aid and the safety of their attendees and should come prepared.
The 'Scouts' Own' will be predominantly led by young people and will be suitable for all faiths and those without faith.
Annually this event gives us an excellent opportunity to demonstrate the very best of Lonsdale District Scouts, to do this however, it is fundamental that as many Groups are represented as possible. Please could you let me know as soon as possible if your Group cannot attend .
As ever, thanks for your help and support and I look forward to seeing you on the day.
With Best Wishes
Scott Duncan
ADC Events
scott.duncan@lonsdalescouts.org.uk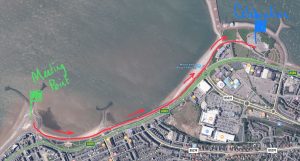 Badge Representation:-
2nd Bolton-le-Sands – Faith
1st Carnforth – SnowSports
Caton Church – Photographer
Centurion with Westgate – Astronomer
1st Forton – Fire Safety
Galgate – International
1st Halton – Hikes Away
3rd Hornby – Meteorologist
5th Lancaster – Martial Arts
13th Lancaster – Emergency Aid
16th Lancaster – Chef
23rd Lancaster – Air Activities
33rd Lancaster – Paddle Sports & Sailing
34th Lancaster – Artist
35th Lancaster – DIY
53rd Lancaster – Mechanic
3rd Morecambe – Disability Awareness
11th Morecambe – Nights Away
16th Morecambe – Pioneer
1st Overton – Animal Carer
1st Silverdale – Gardener
1st Slyne-with-Hest – Communicator
1st Warton – Caver
Westgate – Cyclist
If Explorers & YLs could jointly represent 2x badges and share the responsibility (StreetSports & LifeSaver)