Morecambe Guardian 22 November 1957:-
New scout troop
A NEW Scout troop – the 7th Morecambe – is being inaugurated tonight (Friday) at Sion Baptist church school-room when six boys are expected to be enrolled.
The troop is being formed by the church's minister the Rev. A. S. Else, who will be Scoutmaster.
He told a "Guardian" reporter "To start we will only have Scouts and if things progress reasonably well a Guide section may be introduced. Boys are buying their own uniforms but we are giving financial assistance to those who need it."
Mr. Else has been connected with the movement for many years in the past as both a Scout and an Rover. "But this Scoutmaster role is entirely different. I will be serving it for a probationary period."
Among the boys to be enrolled by the Assistant District Scout Commissioner, Mr. M. Melling, will by Mr. Else's son Matthew. The others are David Palmer, Michael Larrie, Geoffrey Bedford, Peter Dixon and Jeremy Barton.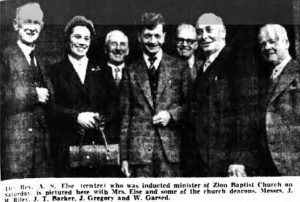 * Ambrose Samuel Else was born 14 July 1916 in Rusholme, Manchester; twin of William J Else.
In 1939 he was living at 277 Wilbraham Road, Manchester then a Minister Of Religion (Non Conformist).
He married Phyllis Gibbons in 1939 at Salford. She died in December 1954 in 509 Burnley Road Whitewell Bottom, Rawtenstall. He subsequently married Murial A Cann 1956 at Bolton.
According to UK electoral registers he was living in Scotland from c. 1988-2009.

Ambrose Else : Obituary
Published in the Manchester Evening News on 18th September 2009
ELSE (REV DR AMBROSE SAMUEL) – Passed away peacefully on September 4 2009 surrounded by his loving Family, Ambrose aged 93 years and formerly of Rusholme.
The beloved Husband of Muriel, cherished Dad of Ruth and dear Grandad and Great Grandad. Ambrose will be deeply missed but fondly remembered by all his Family and Friends. Family flowers only please, donations preferred to Grace Third World Fund.
On Monday September 21 2009 Ambrose will be received into Harpurhey Community Church for Service at 12.30pm followed by Interment at Lumb Baptist Church Cemetery, Rossendale.
All further enquiries and Chapel of Repose Appointments to Michael Kennedy Funeral Service, Blackley, tel 0161 277 9205