Shepton Mallet Journal 05 June 1931:
A 14-year-old Toc H. Sea Scout, Harry Price of Morecambe, took a 20 ft. dive into treacherous currents to rescue an unknown boy who had fallen from the end of the old jetty into the sea at Morecambe, on Monday night.
Henry had been bathing off the end of the old jetty, and was donning his coat when he saw a boy who had been leaning over the railings fall over the edge into the sea. He stripped off his overcoat again and took a header into the sea before the crowd had had time to realise what was happening.
In about 20 seconds he had brought the drowning boy to the safety of the jetty steps, gave him a reproving push, put on his overcoat, and walked straight off home.
The rescued boy, frightened by his adventures, took to his heels and fled, without telling anyone who he was.
The spot where the rescue was effected is probably the most dangerous on the Morecambe coastline, and on the ebb and flooded tides dangerous currents swirl round the massive stonework of the jetty pier.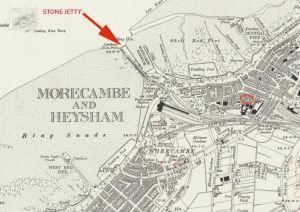 Lancashire Evening Post 02 June 1931:
SCOUT'S GALLANTRY.
RESCUED A BOY FROM DROWNING AT MORECAMBE.
WENT STRAIGHT HOME TO BED WITHOUT TELLING PARENTS OF ACT.
Diving from the Old Jetty, Morecambe, into the sea, last night, a 14-year-old Sea Scout, Harry Price, son of Mr. and Mrs. James Price, 4, Sun-street, Morecambe, saved a boy from drowning, and then put his overcoat on and went home without giving his name or address. When he got home he simply changed out of his bathing costume and went upstairs to bed without telling his parents anything of his brave act.
Young Price's gallant deed was witnessed by hundreds of holidaymakers who were gathered on the end of the Old Jetty watching the swiftly flowing ebb tide. Suddenly there was a cry of alarm as a young boy, who was leaning over the railings which guard the end of the jetty, lost his balance and toppled over into the sea 20 ft. below.
Without hesitation Price took off his overcoat and took a header into the sea, where he quickly reached the boy, whom he brought to safety in spite of the treacherous current flowing round the massive stone work of the old jetty with the ebb tide. Following the rescue Price ran off home as fast as he could without telling anyone who he was or where he lived.
It was late last night when he was traced by "The Lancashire Daily Post" reporter, and he was then sound asleep in bed. When his mother roused him and asked him if it was he who had rescued the boy he said, "Oh, it was nothing. He fell in the sea. I dived after him and pulled him out." He is the grandson of Mr. John Woodhouse, who eight years ago (2 August 1923) was drowned with several holidaymakers in a fishing boat tragedy in Morecambe Bay. Ever since his grand father's tragic death young Price has been keen to learn swimming.
The boy who was rescued, frightened by his adventure, disappeared from the scene as soon as Harry had hauled him out of the water, and attempts to trace him failed.
Morecambe Guardian 05 June 1931:
RESCUE FROM OLD JETTY.
BOY FALLS FROM PIER HEAD.
MODEST SEA SCOUT.
DID NOT TELL PARENTS ABOUT IT.
MONETARY REWARD REFUSED.
A small youth with sandy hair, who is to be seen in the streets of Morecambe shouting lustily the names of the newspapers he has for sale, is Morecambe's latest hero.
He is a modest hero, for it would be his sincere wish that his gallant deed had remained unknown. He carried his modesty to the extent that his parents were unaware of the incident.
He is Harry Price, aged 14 years, the eldest son of Mr. and Mrs. James Price, of Sun Street, Morecambe.
STROLLING ALONG.
It happened that on Monday afternoon, Harry strolled along the old Stone Pier, at about 1-45 p.m. This being a favourite walk with holidaymakers, there were a good number of people about at this time. Hearing shouts, Harry saw a boy in the water, having fallen twenty feet into the sea below. He dashed down the steps, which were once used for passengers when the steamers left the Jetty. He jumped into the sea, and before the crowd realised, he had hauled the boy to the steps.
For a boy of his stature, his feat was remarkable, because the currents at this point are strong.
Interviewed by our reporter, Harry seemed to wonder why all the fuss should be made. He considered it a Sea Scout's duty (he is a member of the local Toc H Sea Scouts). He did not know the boy he rescued but he knew he was wearing a white haversack.
Harry is related to an old Morecambe fisher family, his grandfather being Mr. John Woodhouse, who along with seven other holiday makers, was drowned in a fishing boat in the Bay seven years ago.
The boy who was rescued, in the excitement, disappeared in the crowd and was never seen again.
REFUSED MONEY.
Harry was offered 5s. as a reward for his deed by a spectator, but refused it, saying, "I'm a Sea Scout."
The boy has not had much experience of swimming and his bravery is all the more to be admired on that account. It is understood that he will be recommended for the Scout Medal.
**This is Harry Pryce born 21 February 1917 and baptized at Holy Trinity, Morecambe 13 March 1917. His father James Ferguson Pryce was born in 1896 in St Rollox, Glasgow married Doris Woodhouse (baptized 29 October 1897 St. Laurence, Morecambe daughter of John & Mary Woodhouse, fisherman of Euston Road) in 1916 at Blythswood, Glasgow. In 1917 the family was living at 55 Euston Road, Morecambe where James' occupation was a Machine-man. In 1931 the family is in the Voters' List at 4 Sun Street, Morecambe (circled on map).
Based on the above newspaper details I think Harry would have been a member of the 5th Morecambe & Heysham Toc H Sea Scouts.
Harry married Mary Isabel Moon (born 21 Aug 1913) at St. Luke's Church, Skerton 20 April 1946.
He died locally in 1997.