Lancaster Guardian 11 August 1944:
SCOUT NOTES
A bulletin from the Group Scoutmaster F. R. Hayton gives news of the activities of the 13th Lancasters. Though the Crew is not active as in the pre-war times, it is still flourishing amongst other members who are in the Services. Whenever they are on leave, they contrive to meet at "Springfield", Bare, Morecambe and Heysham, the focal point of the Crew, and the home of County Commissioner T. W. Helme who is their leader.
Here recently, John Didegon, now a Sub-Lieutenant in the Royal Navy, was initiated as a Rover Squire, in the presence of G.S.M. Hayton, Sergt. J. Wakefield (Home Guard), Rovers J. Heseltine and A. Barlow, the two latter on leave from the Royal Navy. Heseltine has been mentioned in despatches for devotion to duty in action last September.
Maurice Harrison, recently reported missing, was an Assistant Scoutmaster of the Troop, and the swimming champion for four years. Others previously believed lost are Rover Leslie Pearson*, and Patrol-leader Geoffrey Ambler**. All were serving in one or other branches of the Royal Air Force. Two former members of the Group have been recognised by the military authorities for bravery and good work – Tommy Lyth#, who has been awarded the Military Medal, and ex-G.S.M. G. F. W. Malham##, invited to become a member of the Fifth Army Association of America for good work as liaison between British and American forces. Herbert Pyke, George Penny, John Addison, and William Parkinson have been on leave recently.
The Troop, working in conjunction with the 12th Lancaster, is progressing well, and has now a Senior Patrol. P.T. classes, under Mr. T. Goulding, are held on Friday evenings; regular troop meetings on Mondays; special training and leadership instruction, combined with badge activities take place on Wednesdays.
Ten Pathfinder and five Camper badges were gained last week. Albert Penny has succeeded in getting his First Class, King's Scout, and Green and Yellow Cords. Patrol leader M. Loxam is in charge of the 12th Lancaster cub pack. –AKELA
*Leslie Edward Pearson was born 1920 in Salford son of Edward and Ethel Pearson later of Scorton.
Leslie Edward Pearson Service Number 42639, 77 Squadron RAF died 17 April 1941. Hamburg Cemetery. INSCRIPTION – OUR LOVED ONE "IN HEAVENLY LOVE ABIDING". His brother Stanley William Pearson also died on service. (CWGC)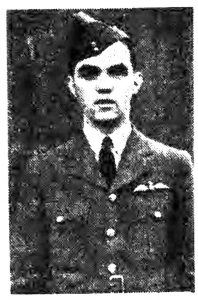 Lancaster Guardian 23 May 1941:
P/O L. E. Pearson
News has been received by Mr. and Mrs. E. Pearson, of West Lea, 59 Cleveleys Avenue, Lancaster, that their elder son, Pilot Officer Leslie Edward Pearson, attached to Bomber Command, is believed to have lost his life while on a raid over enemy territory.
A native of Salford, Pilot Officer Pearson has resided in Lancaster with his parents for over six years. He attended the Royal Grammar School and before volunteering for the RAF about two years ago was employed in the laboratories at Messrs. James Williamson and Son's Ltd. He was 21 years of age.
Pilot Officer Pearson had taken part in numerous raids on Germany and Italy, including Berlin, Hanover and Wilmhelmshaven. He was considered a first class pilot and had been mentioned in despatches.
In civilian life Pilot Officer Pearson was connected with the Boy Scout movement and was a Rover in the 13th Lancaster troop. He attended the Lancaster Storey Institute evening classes, and was associated with the Students' Association. His many hobbies included tennis and photography, and he was a keen musician. His younger brother, Stanley Pearson, who is aged 18, is it present serving in the Royal Artillery.
**George Geoffrey Ambler born 1923 Halifax, Yorkshire. Son of Percy and Gladys May Ambler. In 1939 living at 44, Morecambe Road, Morecambe – noted as Scout Messenger, Lancaster City Council.
Sergeant George Geoffrey Ambler, Service Number 577478, 20 Sqdn., Royal Air Force died 13 April 1943. (CWGC)
Lancaster Guardian 22 April 1943:
WIRELESS MECHANIC BELIEVED KILLED.
Information received from the Ministry shows that Sergt. George Geoffrey Ambler is missing and believed killed as a result of air operations. Son of Mr. and Mrs. Percy Ambler, 44 Morecambe Road, Morecambe, his father is a local officer of Customs and Excise at Lancaster. Sergt. Ambler joined the RAF at 16, passing out as wireless mechanic. Later he volunteered for air crew . He was educated at the Lancaster Royal Grammar School, was a King's Scout in the 13th Lancaster Troop and holds the Bronze Medal and the Life Saving Certificate.
According to Internet records, in 1943, 20 Squadron was located at Chharra, or Charra, West Bengal, India.
# Thomas Lyth was born 1920 in Lancaster. The family was living at 58 Dorrington Road, Lancaster in 1939.
Lancaster Guardian 12 May 1944:
TWICE WOUNDED WINS M.M.
Award For Lancaster Swimmer
Twenty-four-years old Corpl. (Acting Sergeant) Thomas Lyth, Royal Irish Fusiliers, of Ulleswater Road, Lancaster, has been awarded the Military Medal for gallant and distinguished conduct in Italy.
He related the circumstances of the award in a recent letter to his wife . "It was about midnight," he wrote "and a soldier was lying near me badly wounded in the arm and leg. There was no one to take him back, so I just did what anybody else would have done, and I took him to safety, on the way getting help from another man. I really thought I would have been a prisoner, because the Germans were running about all over the place."
A well known Lancaster swimmer and polo player, and a member of the Lancaster Swimming Club, Corpl. Lyth has represented the Lancashire County polo second team in competitions. He was educated at Greaves Central School, and was employed as a bricklayer with a Lancaster firm of builders before joining the Loyal Regiment four years ago.
He served with the Manchester Regiment and the Royal Ulster Rifles before being transferred to his present regiment, and has been twice wounded.
## George Frederick William Malham was born 10 June 1906 in Hornsey, Middlesex. He attested for the Royal Artillery No. 762613 on 1 May 1925 as a Territorial for 4 years at the age of 18 yrs 11 mnths at London stating his occupation as Clerk. He was discharged 4 Feb 1929.
In 1939 he was living with his wife Mary at 35 Barker Road, Middlesborough his occupation then being Departmental Manager Credit Control.
British Army Casualty Lists show a Pte G. Malham 3779251 2nd Bn. King's Regiment (Expeditionary Forces, (f) North Africa; Italy): Wounded. 27 June 1944. (This would be Monte Cassino)