Lancaster Guardian 20 July 1956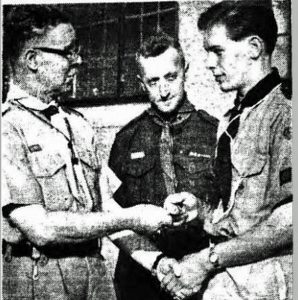 Badge from Queen for Scout, 16
The first member of the 28th Lancaster scout troop to gain the highest possible scout award, the Queen's Scout Badge, is 16 year old Malcolm Charles Curry of Torrisholme Road, Lancaster, who was presented with the badge by the NW Lancashire County Commissioner J. Dodds Drummond at a ceremony in the Cross Hill congregational hall on Monday evening.
Malcolm, a pupil at Skerton Boys' Secondary Modern School, Lancaster is the senior scout of his troop, which is affiliated to the Cross Hill congregational church. The troop was inaugurated in 1949 by the church's minister, the Rev. H. Clarke.
In order to obtain the Queen's badge and an inscribed testimonial, Malcolm had to gain four public service badges, three proficiency badges, a first class badge and the Bushman's Thong.
The ceremony was attended by the 28th Lancaster cub pack and the 7th Lancaster brownie pack, both affiliated to the church. Also attending were the 11th Lancaster Girl Guide Pack who are attached to the Sulyard Street Methodist Church, Lancaster.
JUNGLE DANCE
A number of demonstrations were given before the presentation. These included a jungle dance by the cubs, the rescue of a person from a smoke-filled room, performed by Malcolm himself, who also took part in another first aid demonstration, attending to a person injured in a bicycle accident. A number of dances were performed by the brownies and guides.
In making a presentation to Malcolm on behalf of the Chief Scout, Lord Rowallan, Mr. Dodds Drummond described Malcolm as a great pioneer of the troop and hoped that the presentation to him would inspire other members of the troop to strive to reach the top of the ladder. He hoped the presentation of a Queen Scout Badge to a member of the troop could be made an annual event.
He was accompanied by the Assistant District Commissioner, Mr. M. H. Sharpe. Malcolm was also commended on his fine achievement by the troop's scout master, Mr. E. H. Lowe.
A social followed the presentation.