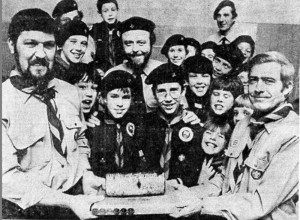 A SKILFUL local scout group has won a trophy in an annual contest at the Waddecar County Scout Campsite centre.
Stephen Physick, Kevin Hewitt and Robert Chester, all members of the 3rd Morecambe and Heysham (St John's) Scout group came top in the contest at the County Campsite last November. They won the "Service Crew Challenge Trophy" which they now hold for a year—the service crew is the group which looks after the campsite.
To win the award they had to prove their skills In a variety of camping and scouting tasks. Says their leader, Mr Ian Rogers: "It Is the first time we have won this award and naturally were I very pleased. It is tremendous encouragement for the lads, who worked very hard."
The trophy was presented in a brief ceremony last Friday. Two members of the service crew from Waddecar, Mr John Seed and Mr Phil Dewhurst, were there to make the presentation (Robert Chester was unable to be there, as he is on a ski-ing trip with his school at the moment).
• Picture shows service crew leader, Mr John Seed, left, and assistant leader, Mr Philip Dewhurst, right, present the trophy to Stephen Physick, centre left, and Kevin Hewitt, centre right, watched by Scout leader Ian Rogers, centre, and other members of the scout group.—M3 z