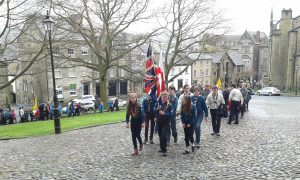 On Sunday 23rd April we will be holding our Annual St. George's Day Celebration.
Please meet at 12.00 pm, on the Central Promenade, Morecambe, by the lifeboat station opposite Auckland Hotel in full, very smart uniform (incl. woggle).
We will then parade to Morecambe Winter Gardens for our annual 'Scouts' Own' and renewal of promises starting at 12.45 pm.
Fun Day Celebration:
After the Scouts' Own we will hold a full District fun-day in and around the Winter Gardens finishing at 3:30 pm .
Key Points:
All Groups are asked to provide one base for the fun-day celebration based on an activity badge of your choosing. Group Scout Leaders please confirm your attendance and details of your base by 9th April. This is to ensure that we have no duplicated bases.
Please could I have two volunteer Groups to prepare and run a base each at the front of the Winter Gardens that will encourage the public to join us inside:-
Tent pitching (have a small hike tent pitched to look around)
Backwoods simple cooking (small fire barrel at the front)
Both will require marshalling and barrier tape to ensure safety.
Please invite and encourage all members of your Group including Group Executive, supporters, parents and families to attend and support the event.
All Scouting members should attend in full and smart uniform. Leaders this is our opportunity to lead by example and all award holders are encouraged to wear your awards with pride.
Groups are responsible for their own first aid and the safety of their attendees and should come prepared.
The Scouts' Own will be predominantly led by young people and will be suitable for all faiths and those without faith.
A collection will be taken at the start of the service which will be donated to the Children's Ward at Royal Lancaster Infirmary.
Please can GSL's confirm if their Group is attending or not, and details of your base, to Scott Duncan (ADC Events) on events@lonsdalescouts.org.uk
Thank you.
Scott Duncan
ADC Events