From "Scouting Milestones" Johnny Walker:
"The B-P Scout Guild
THE 6th World Jamboree, 'The Jamboree for Peace', took place in 1948 in Moisson, France, immediately followed by the 11th International Scout Conference. It is not surprising that after the Second World War, when so many ex-Scouts on both sides had lost their lives, minds were concentrated on how international links could once again be made to promote peace. It was decided that 1948, the 40th Anniversary of Scouting, should be marked by the formation of 'Old Scouts' Branches in all member countries. In keeping with that resolution a conference, held at Gilwell in the Autumn of that year and opened by the then Chief Scout Lord Rowallan, decided to establish a B-P Guild of Old Scouts in Britain.
This organisation was a success, and most Scout Districts could count on the support of Guild Members. In October 1953, the 'Scout Guild', as it became known to many, and the Old Guide organisation 'The Trefoil Guild' were founder members of 'The International Fellowship of Former Scouts and Guides' and, in 1955, the two groups amalgamated to form 'The B-P Scout Guild'. It was decided to adopt an amalgamated Scout and Guide logo as its badge in 1957, in time for the World Jubilee Jamboree, where its members gave good service. Most of my information for this article has come from Scouting sources, so I would be very interested to hear from Guides and ex-Guides who could give their perspective, or share their experiences.
Scout Fellowship
IN May 1974, the Committee of the Council set up a working group to report on the future of adult support in Scouting and this of course included the role of the B-P Scout Guild. The report made the recommendation that 'District Scout Fellowship' should replace the 'Guild' as this would enable many other groupings that were assisting in the support of Scout Groups, such as various forms of District Service Teams, to all work together.
In 1999 major changes to the whole of the UK Scout Association were put in train and, once again, a fresh look was directed at adult support. The Fellowship was fully integrated into the Scout Association under the heading 'Adult Support' and, at the same time, a National Scout Fellowship Team was created to enable it to better achieve its support role."
Scout Active Support (SASU) is a division of The Scout Association in the United Kingdom that provides support to units and activities. Formerly known as the Scout Fellowship, it was renamed in September 2009.
The B-P Scout Guild, Morecambe & Heysham & District
Minutes of the first meeting held 3rd September, 1958 at the headquarters of the 5th Morecambe & Heysham Boy Scout Group, Woodlands Road, Sandylands, Morecambe and Heysham. 7.45 p.m.
This meeting convened to discuss the formation of a B-P Scout Guild in the district of Morecambe and Heysham and District was addressed by the District Organiser A. Eric Lowe on the efforts of a small number of ex Scouters to start the Guild. The D.C. M. Melling and Field Commissioner C Wynn also outlined points in support of a Guild in the district and when the motion to form a Guild was put forward by Eric Pickles and seconded by N. Peel it was carried without opposition.
The appointment of officers for the ensuing year then took place and the following were elected:
Chairman, Norman Peel, proposed E. Pickles, 2nd F. King, and carried.
D.O. & Sec, A. Eric Lowe, proposed E. Pickles, 2nd G. S. Evenden and carried.
Hon. Treasurer, E. Ponting, proposed M. Melling, 2nd F. Driver and carried.
The adoption of suitable bye-laws and rules was discussed and on the proposal of F. King & E. Pickles it was agreed that 'Appendix C' as adopted and completed be accepted.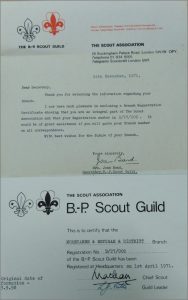 * Albert 'Eric' Lowe was born 3 October 1918 in Morecambe, son of Albert Lowe and Edith Nora Dearden. The family was living at 13 Hale Carr Grove, Heysham in 1939.
Eric attested for the Royal Artillery in World War 2:-
915428 LOWE Albert Eric, being discharged 1.5.46 Para 390 (XVI) KR 1940.
Records show that he was reported missing 15.2.42 in the Far East and appears in Prisoner of War records from 1942:- 915428 Bdr. A E Lowe 88 Fd OVL 6.11.42
British Army Casualty Lists 1942:
Royal Artillery
Expeditionary Forces (b) Malaya. Previously posted missing now reported Prisoner of War
Date missing 15.2.42 915428 Lowe A/L/Bdr A E 88 Fd Regt.
#Singapore fell to the Japanese on 15.2.42
It is recorded in 'Scouting in Lonsdale 1908-1999' that Eric organised a Rover Crew in a Japanese Prisoner of War camp.
Lancaster Military Heritage Group:
Both the First and Second World Wars saw the involvement of the local regiment, The King's Own, but many other units also recruited in the area – including, the local gunners of the 88th Field Regiment Royal Artillery (350 Battery was based at Dallas Road). They served in France and Belgium, before being evacuated through Dunkirk, only to be sent to the Far East and many men were captured at the fall of Singapore to the Japanese.
Eric married Kathleen Louisa Price, twin daughter of Mr. and Mrs. Harry Price of 27 Tomlinson Road, Heysham, 31 Dec 1945 at St. John's, Sandylands. He died locally in 2006.