It's official!
To all members, West Lancashire Scouts,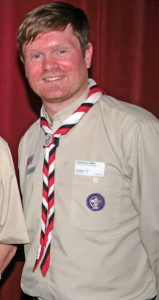 I am writing to inform you that Craig Dewar-Willox has been appointed as your next County Commissioner with immediate effect.
For those who may not know Craig, Craig has held several roles both locally and nationally. Locally, Craig has been the DC of Lonsdale District and has been a member of the County Executive for several years. Nationally, Craig has volunteered with the Safeguarding team for many years, delivering and developing our training and has served as a member of the Safeguarding Committee. Professionally, Craig is a primary school teacher and is currently the headteacher of a school in Cumbria. In 2016, Craig was appointed a Specialist Leader of Education and is involved in supporting leadership in schools and in the development of initial teacher training.
I think Craig will be an excellent addition to Team England, and I am really excited to work with him. I hope you will all make Craig feel welcome and support him going forwards in his new role as County Commissioner.
Nisbah Hussain
Regional Commissioner – North West
The Scouts