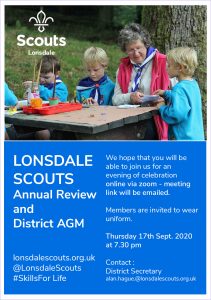 To All Members, Lonsdale District Scout Council
I hope that you will be able to join us for an evening of celebration on Thursday 17th September 2020 at 7.30 pm prompt.
This year will be somewhat different. Owing to continuing Covid-19 restrictions our meeting is being held ONLINE via the Zoom software platform
The required meeting login details have been made available via the Lonsdale Newsletter and may also be obtained from me on request.
Members are invited to wear uniform.

All members of the Scout Council:- District and Group Active Support Managers • Scouters; • Administrators; • Section Assistants; • Skills Instructors; • Advisers; • all Explorer Scouts; • all members of the District Scout Network; • Chairmen of Troop Leadership Forums in the District; • Members and Associate Members of the Movement registered in the Scout District and including Members of District Scout Active Support Units; • all parents of Explorer Scouts, are invited to attend.
Copies of the meeting agenda, annual report and minutes of the 2019 meeting are attached below:
If you are not familiar with Zoom there is a basic guide HERE.
If in doubt consult the help pages at www.zoom.us
Alan S Hague BEM
District Secretary
alan.hague@lonsdalescouts.org.uk
YOU MAY ALSO LIKE
Leave a comment
Logged in as Alan. Log out?
COMMENT
This site uses Akismet to reduce spam. Learn how your comment data is processed.
SEARCH
SEARCH
Search …