59 Highbury, Jesmond, Newcastle (Google Maps)
Former Field Commissioner and Travelling Commonwealth Commissioner.
Assistant Chief Scout Commissioner, Nigeria 1937-46.
1946-59 Went with Chief Scout Lord Rowallan to West Africa, Mediterranean, Italy and Greece.
1962 Went with Chief Scout Sir Charles Maclean to Rhodesia and Nyasaland.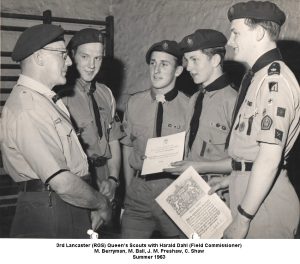 Frederick Harold James Dahl was born 14th April 1906 in Newcastle upon Tyne.
The Dahl's were of Norwegian descent.
The Evening Telegraph, Dundee, July 25, 1906 :
Link with Sir Walter Scott.
The death is announced at Morden Lodge, Putney, of Mr. Robert Hutchinson Dahl, aged eighty-two years. Mr. Dahl was born in Leith in 1824, and was the son of a Norwegian timber merchant resident in Leith. When Mr. Dahl was about four years of age his father (Abraham Dahl*) removed to Hamburg with his family, and resided there for about three years. At the end of that period the family returned to Leith, and Mr. Dahl became a pupil in the Edinburgh Royal High School. On one occasion (about the years 1832-1834) he was presented to Sir Walter Scott, who had visited the High School, and conversed with him in German.
* Scotland, Post Office Directories 1838. Edinburgh, Leith
SAW MILLS, Leith
Mr Abraham Dahl, translator of German, Swedish and Danish languages.
National Records of Scotland – Census 1851
Parish of S Leith, Parish of St. Thomas', Parliamentary Burgh of Leith
134. 4 Saw Mills
Abram Dahl Head Mar 55 Agent Timber Merchant born Norway B. Subject
Catherine (Cameron) Do Wife Mar 59 born Leith, Midlothian
Ann Do Daur U 37 born Leith, Midlothian
Murdoch C Dahl Son U 28 Clerk Ship Broker born Leith, Midlothian
David J Dahl Son U 21 Florist born Leith, Midlothian
Isabella H Milner Visitor 13 Scholar born McDuff, Banffshire
Isabella Dickson Servant 18 House Servant born Leith, Midlothian
Harold's father Oscar, son of Robert, moved to Newcastle to run a timber importing business there.
This was the family in the 1911 Census:
1911 Census
59 Highbury Newcastle / Tyne. Nine rooms
Oscar Horace Dahl Head 32 married Timber Agent born Putney (London)
Edith Gladys Dahl (née Edgcumbe) Wife 27 married 6 years born Wimbledon (Surrey)
Ellen Eliza Barron Wife's cousin 47 single Housekeeper (Domestic) born Camberwell (London)
Beatrice Trainor nurse 24 single Nurse (Domestic) born Millom (Cumberland)
Lily Beattie kitchen maid 14 single Kitchenmaid (Domestic) born Newcastle / Tyne
Harold James Frederick son 4 school born Newcastle / Tyne
Camilla daughter 2 born Newcastle / Tyne
Oscar son 1 born Newcastle / Tyne
Harold attended Newcastle Royal Grammar School and was, later, a cadet on H.M.S. Conway, a training ship. Thereafter he worked in a Newcastle book shop.
Harold was associated with Scouting from being a young man. He first became a Scout in 1916 at Newcastle Grammar School.
Shields Daily News 18 October 1927:
NORTHUMBRIAN SCOUTS
The following have passed Part II of the 11th Northumberland Wood Badge Course, which was conducted last month by the Deputy Camp Chief, Mr. J. Dorgan, assisted by Captain L. S. Winkwork and Mr. N. Hancock: –
(Includes)
Scoutmaster F. H. J. Dahl (92nd Newcastle)
Newcastle Journal 21 February 1928:

IN BRIEF
The Wood Badge and Parchment have been awarded to Scoutmaster F. H. J. Dahl, of the 92nd Newcastle Troop (Central Division), this bringing the total number of Wood Badges gained in Northumberland to 95.
Newcastle Journal 23 October 1928:

BRUNSWICK ACTIVITIES
Scouting is one of the several activities successfully carried on in connection with the Brunswick Wesleyan Church, Newcastle, as was evidenced at the demonstration recently given in the Connaught Hall. In addition to displays by the Girls' Life Brigade, the Boys' Brigade, and Life Boys, some attractive items – such as games, signalling, and a campfire – was staged by the 92nd Newcastle Scout Group. There are 30 scouts, under Scoutmaster S. H. J. Dahl, and Cubmaster Miss Pritchard has charge of 25 Wolf Cubs.
England & Wales, Electoral Registers 1929
St. Thomas' Ward (Jesmond)
4 Lambton Road
Dahl, Oscar Horace
Dahl, Edith Gladys
Dahl, Harold Frederick James
Barron, Ellen Eliza
Jeffreys, Montague Vaughan Castleman
It appears from the record below that in 1934 Harold set off for Nigeria as a missionary.
Passenger Lists Leaving UK 1890-1960
MV Apapa, Elder Dempster Lines
2 May 1934 F H J Dahl Male 28 Missionary
10 Burdon Tce., Newcastle on Tyne
Liverpool to Lagos, Nigeria
He managed the Church Missionary Trust Book Shop in Western Nigeria.
In the Second World War Nigeria & Ghana were surrounded by hostile countries. Harold was employed as a Civil Servant to organise the Scouts to run the country's Air Raid Warning System.
After the war he became Travelling Commissioner making many trips and leading Wood Badge Courses; these were attended by many leading Africans.
By 1950 he was back on the Scouting trail in the UK –
Cornishman 09 March 1950:

IMPORTANCE OF CHARACTER
Scouters' Conference Discussion
Methods for increasing the efficiency and for retaining and utilising the older trained boys were discussed at the Scouters' Conference held in Redruth on Sunday.
Over 50 delegates from West Cornwall were present and this was the first Scouters' conference to be held since 1938. They were welcomed by Acting County Commissioner H. A. Stoyle, Redruth, and heard Mr. F. H. Dahl speak on "The World-Wide Aspect of Scouting." Mr. Dahl outlined the aspects of scouting with its many difficulties in various countries, including America and Africa, and gave an insight into scouting among the coloured peoples.
(Continues)
West Sussex Gazette 24 April 1952:

BOLNEY
The Field Commissioner for Sussex and Surrey, Mr. D. H. J. Dahl, addressed Boy Scouts of Haywards Heath District at the annual St. George's Day service at Bolney Parish Church on Sunday. District Commissioner L. E. Crabb led the renewal of the Scout promise by the boys, after Patrol Leader Graham Rumley had read the Scout law. In the parade to the church, led by the District Scout Band, were Haywards Heath Rovers and Boy Scouts of Ardingly Balcombe, Bolney, Cuckfield, Haywards Heath, Horsted Keynes, Lindfield, and Slaugham.
Kent & Sussex Courier 16 May 1952:

Crowborough
Parents of local Scouts attended a film show at the Scout Hut on Monday. Afterwards a talk was given by Mr. F. H. J. Dahl, a Field Commissioner from Scout Headquarters.
In 1952 Harold was married –
Marriage 1952 East Glamorgan RD
Frederick H J Dahl, Joan F Habakkuk
He met his future wife on a visit to the Channel Islands.
Freya Dahl's father was Evan Guest Habakkuk – the surname having been assumed by a seventeenth-century forebear after the prophet Habakkuk, it being a Welsh custom at that time to take patronymics from the Bible.
(Habakkuk, who was active around 612 BC, was a prophet whose oracles and prayer are recorded in the Book of Habakkuk, the eighth of the collected twelve minor prophets in the Hebrew Bible. He is revered by Jews, Christians, and Muslims.)
1939 Register (Find My Past)
Barry
42 Park Road
Habakkuk Evan G(uest) 17-6-85 Education Secretary Municipal
Habakkuk Anne 28-7-85
Lives Of The First World War 1914-1918
Evan Guest Habakkuk b. 17 Jun 1885 Service No. M21818
Royal Navy
EGH's activities in WW1: In 1915, Guest Habakkuk went into the navy, going first to Portsmouth and then, after the battle of Jutland, to Scarpa Flow where he remained until 1919, just before the scuttling of the German fleet. He taught navigation there – but we believe he saw no action and he seems to have taken part in plays, concerts and other social activities. He also took a large number of photographs. This was his main hobby and we have many glass plates of photos he took in Orkney, a few of which are attached.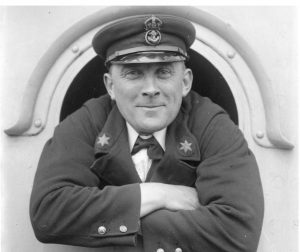 Evan's grandfather John Habakkuk b. 1821 was at one time a mining engineer at Nant y Glo Iron Works, Aberystruth, Abergavenny, Monmouthshire, Wales.
Freya Dahl's brother was Sir Hrothgar John Habakkuk a British economic historian. He was named "Hrothgar" after Hroðgar in the epic story Beowulf, which his father was reading at the time of his birth.
Crawley and District Observer 19 September 1952:

Scouting explained
I FEEL that all who appreciate the value of the Boy Scout movement will be glad to hear that an active recruiting campaign is being started to enrol new Scouters and Cubmasters to meet the increasing demand caused by the expansion of Crawley.
As a beginning, the Sussex Boy Scouts' training team, led by Mr. Harold Dahl, of Imperial Headquarters, will stage a session of "Scouting explained" at the 1st Crawley scout hut.
This offers a most interesting programme of talks, and demonstrations and films and it is hoped that any young man or woman who is interested in the movement, whether he or she has had personal experience of it or not, will come to hear what Scouting and Cubbing are all about and to get some idea of the fellowship and drive which the movement seems to instil into all its devotees.
Many who have joined as Scouters or Cubmasters, mainly, perhaps, from a sense of duty to support the universally respected cause, have found themselves inspired by an unexpectedly powerful and infectious fervour which pervades all leaders of the association from the youngest Cubmaster to the Chief Scout himself.
May I appeal then to any of your younger readers who feel some slight urge to play a part in this great work to come to the 1st Crawley Scout Hut in Victoria-road at 3 p.m. on Saturday, September 27.
D. E. Whitworth
(Brigadier),
District commissioner,
Crawley District
Harold left the UK again in 1955 –
Passenger Lists Leaving UK 1890-1960
Dunnottar Castle Union Castle Line
2 June 1955
DAHL Mr. F.H.J. Zanzibar dob 14.4.06 Scout Commissioner
DAHL Mrs. J. dob 24.5.20 Housewife
31 Hampleton Road, Brighton 5
In later years Harold and his wife Freya moved to live in Silverdale.
Morecambe Guardian 05 June 1959
BOB-A-JOB WEEK RECORD £300, BUT-
Scouts forget good deeds when it comes to subs
THEIR TOTAL WAS 15s. IN YEAR
Despite a rule stating that members should make subscriptions towards the running costs of the Morecambe and Heysham and District Boy Scouts' Association, only 15s.was forthcoming from members complained the treasurer, Mr. E. Kendall, at the annual meeting in the Sion Baptist schoolroom, Morecambe, on Thursday evening last week.
Members heard that the number of cubs had declined by 46 and scouts by three in the last 12 months but that senior scouts had increased by 11 and scouters by two. The Bob-a-Job week had raised more than £300, a record.
Mr. G. S. Evenden, the chairman, presided, and those present included County Commissioner Mr. Dodds Drummond of Lancaster, Mr. J. Bowtell of Blackpool, Assistant County Commissioner, Mr. H. Dahl, Field Commissioner who had recently taken over after serving overseas, and Mrs. Stockwell, Girl Guide Commissioner for the district.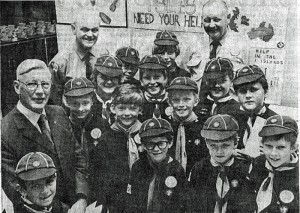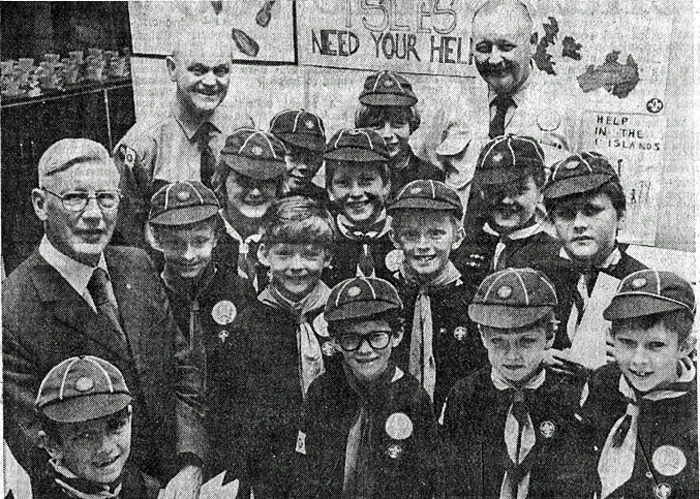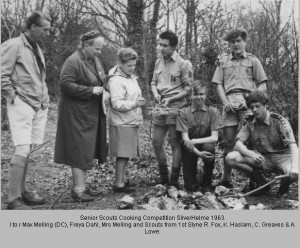 Harold died in 1990.

1990 Probate Records
DAHL, Frederick Harold James of Heversham House 6 St Johns Av Silverdale Carnforth Lancs died 6 November 1990
Probate Liverpool 30 November £121877
Deaths
Joan Freya Dahl b. 24 May 1920
d. 1997 Lancaster
Additional material courtesy of 'The Story of Scouting Museum'.