Lancaster Guardian 27 September 1946:-
Scouting Notes
Presentation of King's Scout Badges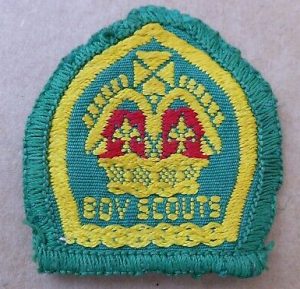 Scoutmaster H. Pyke had the pleasure on Wednesday of presenting three King's Scout badges to members of his troop. In congratulating the winners, Bryan Leyland, Ernie Ellershaw and Derek Kershaw on attaining this hall-mark of all-round Scouting efficiency, Scoutmaster Pyke pointed out to the 13th Lancaster troop that they should not aim to become mere badge hunters, but that the winning of the badge should be the outcome of a real desire to serve the troop and the community to the very best of their ability. It was putting the Scout spirit into their work that counted most. If they did that, badges would follow as a matter of course.
Kenneth Williams, a new recruit, was invested as a Tenderfoot.
Senior scouts of the 13th, put in some training at their Den during the weekend under Scoutmasters Pyke, Sharpe, and Heseltine. They were visited by ADC L. Wright.
Charles Herbert Pyke b. 30.3.1916-14.6.2001 was a son of James Pyke and Maryon nee Crawford. He had a twin sister Nancy. In 1939 the family was living at 6 Percy Road, Lancaster when Herbert was recorded as a Grocer's Manager.
Herbert married Annie Atkinson in 1947 at St. Oswald, Warton.
Brian Leyland b. 1931 was a son of Thomas and Edith A Leyland nee Longton. In 1939 the family was living at 21 Ashfield Avenue, Lancaster.
Ernest James Ellershaw b. 1931 was a son of Ernest and Jeannette Ellershaw nee Van de Sande. In 1929 the family was living at 9 Lindow Square, Lancaster.
City Shield Contest
The City Shield competition will be held in the Quernmore district on October 5th/6th. It is based on "Camping Standards" published by IHQ. The award will go to the patrol attaining the highest standard of camping in accordance with this publication. One patrol only from each group can be entered, and this should consist of five to eight boys, only one of whom shall be a recognized patrol-leader. Inclusive of the latter, there shall be not more than two Senior Scouts in the patrol. Further details will be given in this column later, and ADC L. Wright will be happy to enlarge on any points if intending competitors will communicate with him.
County Honour
By virtue of the meritorious performance at the Lido Swimming Pool, Blackpool, on Saturday last, Lancaster retained possession of the "Helme Shield" in the face of keen opposition. The other contestants were Blackpool, Fleetwood, Thornton Cleveleys and Morecambe and Heysham. The competition, inaugurated in 1938, had been suspended during the war. At that time, County Alderman T. W. Helme, then Assistant Commissioner for the area, gave the "Helme Shield" to the North West Lancs County Scout Council for annual competition. At the Cable Street Baths, which were then used, Lancaster, honoured by staging the gala, celebrated the occasion by becoming first holders of the trophy.
Defending their title on Saturday they were again successful. The first three placings were : Lancaster 24 points ; Blackpool 22, Morecambe 12. The Deputy Mayor of Blackpool presented the shield to the winners, and together with County Commissioner T.W. Helme, congratulated participants on giving an excellent display. On returning home the winners were guests of the Scouters at an informal celebration at the 13th Lancaster Den.
Lancaster placings were: – Back stroke, one length (jnr), E. Ellershaw (1), 13th Lancaster; ditto two lengths (senior) , G. Fraser (2) , 20th Lancaster ; neat diving (jnr) D. Shipley (1), 4th Lancaster ; Free style, two lengths (jnr) A. Keenan (1), 5th Lancaster; ditto three lengths (snr) , C.H. Pyke (3) , 13th Lancaster; breast stroke, one length (jnr), A. Keenan (1), 5th Lancaster; neat diving (snr) M. Roberts (2), 20th Lancaster; breast stroke, two lengths (snr) ditto.
In the squadron race for juniors, the Lancaster team comprising A. Keenan, S. Mountain, P. Page of the 5th, and D. Shipley of the 4th, secured first place. In the senior event second place was again by C. H. Pyke, 13th; S. Woods, 5th; Ingleman and M. Roberts 20th.