THE LANCASTER GUARDIAN AND OBSERVER, FRIDAY, 15 SEPTEMBER, 1944
SCOUTS' BRONZE MEDAL
Awarded Lancaster 13-years-old Boy
TONY KEENAN, a 13-year-old member of the 5th Lancaster (St. Peter's) Sea Scouts last evening received from the Mayor (Coun. W. T. Grosse) the highest honour which can be awarded in Scouting, the Bronze Medal, in recognition of his bravery on August 7th, when he effected the rescue of a young woman from drowning and also assisted her companion who was also in difficulties to reach reach (sic) shore.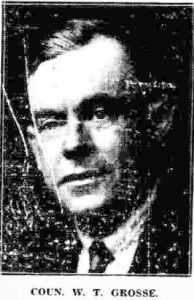 The circumstances which led up to the award of the "Scout V.C." to this young hero, whose parents reside in Sulby Drive, were described to a large and representative audience at the Town Hall. The Mayor presided, and he was accompanied by County Commissioner T. W. Helme, District Commissioner J. Dodds Drummond, and Dr. J. A Tomb. Chairman of the local Boy Scouts' Association.
Rev. Father Conway, who was in camp with Tony and the troop, stated that they were about to get tea when Mr. and Mrs. Keenan, who were sitting on the bank on a tidal part of the river, at a point where the water was 17ft. deep, noticed one of two girls. who were bathing, had got into difficulties. They called for Tony, who responded immediately. He went to the girls' aid and was struggling to get her to the bank when her friend who had also swum out, began to struggle. Although he had been pulled under the water several times, he got both girls to the bank. "I would like to say to him now as I said to him then 'Well done, Tony," concluded Father Conway.
Mr. Helme said "I never felt so thrilled as I do this even­ing," and Mr. J. Dodds Drummond described the occasion as the most auspicious for Scouts and he hoped for Lancaster.
Pinning on the medal and also handing to Tony his badge and the citation of the incident, the Mayor said his was a very brave act and was a noteworthy example of the value of the life-saving training given to Scouts.
Lancaster Guardian 14 June 1946:
SCOUTS' SWIMMING GALA.
In our report of the Scouts' swimming gala, we stated that in an event for scouts aged 11 and 12 years, third place was gained by T. Keenan. This, "The Guardian" is now informed, should have been Kennedy. We are also informed that Keenan's initial is A, and not T. or P. Keenan won the Scouts' championship shield and is the holder of the bronze cross life-saving (swimming) award which he won in a rescue from the sea at Grange in 1944.
Tony was a younger brother of Ken Keenan.
Lancaster Guardian 14 January 1955:
KEENAN N.Z. TRIP DELAY
TONY KEENAN last season's captain of Lancaster water polo team, should have sailed for New Zealand on January 25 but an injury to his right leg while playing football on Saturday for Mayfield United against Galgate in a replayed first round Senior Charity Cup tie at Galgate, will prevent him. Keenan at inside right, scored a goal in the opening minutes, then ten minutes before half time, was taken from the field after being tackled heavily. He returned after the interval but after the game, went to the Royal Lancaster Infirmary where it was found he had torn the ligaments of his right leg. Mayfield lost, 5-2.
He told me, writes a "Guardian" reporter, that he got in touch with the immigration authorities who said they might be able to accommodate him on a ship sailing in April.
Passenger Lists leaving UK 1890-1960 Transcription:
First name(s) ANTHONY, Last name KEENAN, Title MR
Gender Male
Birth year 1931, Birth day 30, Birth month 1
Marital status S
Occupation PAINTER AND DECORATOR
Departure year 1955, Departure day 18, Departure month 10
Departure port GLASGOW
Destination port WELLINGTON
Destination WELLINGTON
Country NEW ZEALAND
Destination country NEW ZEALAND
Ship name CAPTAIN COOK
Shipping line THE NEW ZEALAND SHIPPING COMPANY LIMITED
City GLASGOW
Ship destination port NEW ZEALAND
Ship destination country NEW ZEALAND