"Apple House" was the Country Den of the 4th Lancaster Rovers from 1929. "In 1929 a Rover Scout Den was opened in Halton Park, and is still in their keeping thanks to the continued kindness of Mrs. Wright." ** –
4th Lancaster, Forty Years Celebration. Lancaster Guardian and Observer, Friday, 9 September, 1949
** This would be Mrs Sarah Charlotte Wright née Bowring 1867-1956, born in Liverpool (daughter of Henry Price Bowring a merchant & shipowner born in Exeter), wife of John George Wright, a solicitor, 1869-1921 born in Middleham, Yorkshire, son of George Wright a surgeon born in Tatham. In the 1911 census Mr & Mrs Wright are living at Halton Park.
The den was situated near Halton Park and to the South of Lower Highfield Farm and above the River Lune.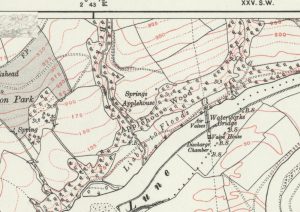 I understand from talking to the farmer's wife at Lower Highfield (2015) that the building no longer exists although your humble correspondent vaguely recalls visiting the building in the 1960's for a joint meeting between the Lancaster and Morecambe Rover Crews. Mick Woods tells me that the building was apparently the subject of recurrent vandalism by local youths in the 80's and the landowner presumably decided to end this by demolishing the place; no trace of the structure now remains.
The 4th Lancaster (Wesley) was one of the first Groups in Lancaster (see details elsewhere on this site) and maintained strong continuity for several decades making it, arguably, the leading Group in the District. Key players were R.E. Wright and Tom Helme. Both feature in the photos.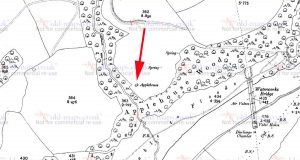 The photos featured are from an album in District Archives entitled – "Snaps taken at or near 'Apple House', the Country Den of the 4th Lancaster Rovers". The album possibly belonged to Tom Helme.
Artleden
I am reliably informed that the 13th Lancaster Rovers had a similar retreat called Artleden. This building is situated in Caton to the South of Artle Beck, near Hollin Wood, OS grid ref. SD 539 626. Read more here . . .