Local Association Formed 1911
From R.E. Wright's log book. Unknown newspaper *. "May 17th, 1911"
* The Lancaster Observer and Morecambe Chronicle Friday, May 19, 1911.
THE SCOUT MOVEMENT
FORMATION OF AN ASSOCIATION FOR LANCASTER AND DISTRICT.
On Wednesday evening a meeting was held at the Town Hall in connection with the Boy Scout movement. Recently the area of the South Lonsdale division was defined by headquarters to be the Lancaster Parliamentary division, with the addition of Bolton-le-Sands, Carnforth, and Warton, and Mr. W. Garnett, Quernmore Park, has been ap­pointed district commissioner. Hitherto the detail work of the movement has been carried on by the scout masters, with Mr. H. F. Beeton as secretary. The meeting on Wednesday was for the purpose of forming an association for the Lancaster district. Mr. Garnett presided, and there were also present Rev. H. A. Watson, Rev. W. J. Locke (Caton), Mr. W. S. Peel (Melling), Messrs. Beeton, R. E. Wright, H. Marks, G. Hamilton, Dr. George, &c. Apologies were received from Mr. N. W. Helme, M.P., Mr. T. W, Helme **, Rev. R. A. Tomlinson, Rev. J. H. Hastings, Rev. F. G. Tizzard, and Dr. Hamilton.
** Note: Tom Helme's younger brother James Helme was married at Darwen on 18 May 1911 (the previous day) to Muriel Eccles of the Grange, Darwen. Future home – Westholm, Lancaster. (later resided at Haverbreaks House).
A very large spread of the marriage featured in the Guardian above this article.
The CHAIRMAN said he was "a regular greenhorn" but a keen one in connection with the movement, and at present was in the position of a learner.
Mr. BEETON (in reply to the Chairman) said it seemed to him that the best thing to do would be to inform the gentlemen likely to form the association what was expected of them. A certain number of gentlemen would be chosen to form the association. from whom a small number would be appointed to act as an executive. These, with the scoutmasters, would meet monthly and transact the ordinary business, such as dealing with warrants, badges, and the special work of the patrols. It was desirable to interest gentlemen who had influence in the town and district, especially those brought into contact with young men and boys. It was more necessary to do that in the town than in the country district. Had it not been for the interest shown by people in the country places it would not have been possible to form the association so quickly as had been the case. They wanted clergy and ministers and other gentlemen in the town to preach the gospel of scouting, to get hold of boys, and to influence their parents. Unfortunately some parents were not willing to be interviewed, so that they might be helped to understand the movement. They wanted also to secure more scoutmasters, so that the rallying of the troops would not entail too much work on individuals. People in the country could help by getting farmers and landowners to grant access to their land. There were no commons in Lancaster, and no place on which scouts could manoeuvre except the Marsh, and that was hardly suitable. He found that where there was open country where scout camps could be arranged, without trespassing upon enclosed land, there were the most scouts. In the New Forest practically every boy wore a scout's badge. He thought people would find the scouts ready to do them a good turn, and if they got a little too officious, they should be reported.
The CHAIRMAN said his own feeling was that an association should be started, with Lan­caster as the headquarters. It would be easy, if they found the association growing, to form one at Morecambe, and another at Garstang. Then gentlemen from those districts on the central association could be asked to sever their connection, and join the associations in their own parts. They should keep their strength concentrated as much as possible at present. He thought they should take the names of those gentlemen who had accepted the invitations sent out, and form them into the association. Then an executive could be formed of suitable gentlemen from the general body. If they once got the association formed it would grow.
This course was agreed to, and the following gentlemen were elected as members of the association :-The Mayor (Mr. R. Preston), Mr. N. W. Helme, M.P., Mr. H. L. Storey, Mr. T. W. Helme, Mr. E. Sharpe, Mr. T. Cann Hughes, Mr. H. Satterthwaite, Mr. W. S. Peel, Mr. G. R Roberts, Dr. Hamilton, Dr. George, Captain Wright, Mr. C. E. Harriss, Rev. J. U. N. Bardsley, Rev. W. J. Locke, Rev. A. R. Tomlinson, Rev. J. H. Hastings, Rev. H. A. Watson, Rev. F. W. Griffiths, Rev. W. Clayton, Rev. F. G. Tizzard, and Mr. W. Garnett.
The CHAIRMAN said he had written Lord Derby asking him if he would accept the presidency, but his lordship replied that he had been appointed commissioner for Lancashire, and therefore they must appoint some one else.
Rev. W. J. LOCKE asked if the district com­missioner (Mr. Garnett) was not ex-officio president of the association ?
Mr. BEETON : No ; I think his position is that of chief scout. (Laughter.)
The CHAIRMAN : I am a kind of a " go- between " between the association and head-quarters.
Eventually, on the proposition of BEETON, seconded by Dr. GEORGE, Mr. H. L. Storey was appointed president.
Mr. BEETON intimated what the duties of the executive were, and he emphasised the fact that when troops were allowed to act in­dependently the best results were obtained.
It was decided that the following gentlemen, with the scout masters, should form the executive, with power to add to their number: – Rev. H. A. Watson, Rev. W. J. Locke, Rev. J. H. Hastings, Rev. F. G. Tizzard, Captain Wright, Mr. T. W. Helme, Mr. C. J. Harriss, and Dr. George.
On questions of finance, Mr. BEETON said now that the association was formed there would be a certain amount of expense for printing, postages, &c., and the CHAIRMAN said he suggested that members of the associa­tion should contribute a small sum per annum to meet the expenses.-This suggestion met with favour, and it was agreed that a scheme on these lines should be formulated.
Considerable pressure was brought, to bear upon Mr. Beeton to allow himself to be nominated as secretary, but he declined on the ground that he was away from the town for considerable periods three times a year, and important communications got missed in consequence, as well as opportunities for useful work. He mentioned that last August a letter from headquarters reached him in West Prussia, fixing the visit of a commissioner for the day after he got the letter, and that was immediately followed by another letter asking him why he had not attended to the first. ( Laughter).
Eventually the resignation of Mr. Beeton was accepted with regret, and Mr. R. E. Wright was appointed secretary temporarily.
Mr. BEETON said he would not do less for the movement than he had done, and he was very anxious to keep his own troop together.
In reply to Rev. J. W. Locke, the bound­aries of the South Lonsdale division, as defined by headquarters, were stated ; and as to the coronation festivities Mr. WRIGHT said the local scouts would be ready to help in any way they could. It was agreed to communicate with the Town Clerk. A question concerning the King's rally was referred to the scout-masters ; and Rev. W. J. LOCKE said he would be able to place a room at the hostel in Meeting House-lane (the old Church House) at the disposal of the association for meeting:-
In reply to a vote of thanks, the CHAIRMAN invited the scouts to the Quernmore fete, for the purpose of giving some display in front of the public, and he also offered some parts of his land for the use of the scouts. With regard to the King's rally he supposed he was not expected to go. "I will not wear scouts' ` 'togs,' and I cannot now get into my deputy lieutenant's uniform," said Mr. Garnett, amid laughter. He added that he would be glad to acknowledge the salutations of scouts who recognised him. When he was asked some time ago if he would allow the scouts to come on to his land he felt he could not see his way to give permission. He did not understand what was wanted ; he thought it was pro­posed to let a lot of lads loose in the ten acre wood to do as they liked. Now that he knew what the movement was he would be quite willing to help the scouts all he could. They could use his land -for their movements as often as they liked.
In reply to a question as to whether he was not concerned about the game on the land, the CHAIRMAN said he did not believe the boys would do any harm. Last year he had 6,000 Territorials moving over his land, and he found the game after they had gone, as it was before they arrived. He wished gentlemen who preserved game would lay that to heart, so that they need not be afraid of Territorials encamping in their neighbourhoods.
The Lancaster Guardian
May 20, 1911
BOY SCOUTS.
ASSOCIATION FORMED AT LANCASTER.
The Inaugural meeting of the Lonsdale Association of Boy Scouts was held in the Town Hall, Lancaster, on Wednesday. Mr. W. Garnett, J. P., D. L., the District Commissioner, presided and others present included:- Rev. W. J. Locke (Rural Dean), Rev. H. A. Watson (Royal Grammar School), Mr. W. S. Peel (Melling), Capt. Wright, Mr. H. F. Beeton (hon. secretary), Mr. R. E. Wright, Mr. J. Hamilton, etc.- Letters of apology were announced. from Ald. N. W. Helme, M.P., Mr. T. W. Helme, Rev. A. R. Tomlinson, Rev. J. H. Hastings, Rev. F. G. Tizzard, Dr. Hamilton.
The CHAIRMAN said he was a greenhorn as far as the movement was concerned, but he wished to help it all he could. He supposed the chief business that night would be to elect officers and an executive.
Mr. BEETON in the course of an address, said they must seek to get every gentleman of influence in the district interested, and concentrate on the town of Lancaster. They wanted ministers of religion to preach the gospel of scouting, and get the parents to allow their boys to join. They wished also to get young men to act as scoutmasters, assistants, etc., so that the running of a troop will not entail too much work on one man. He appealed to the farmers to allow the scouts to have access to land. If they marked any prohibitive boundaries they would keep away from them.
The CHAIRMAN said that Lancaster should be made the headquarters of the Association, and they should invite a number of gentlemen to be members of the Association.
It was stated the following had consented to serve:- Mr. H. L. Storey, Ald. Helme M.P., Mr. T. W. Helme, Mr. E. Sharpe, Mr. T. Cann Hughes, Mr. Herbert Satterthwaite, Mr. W. S. Peel, Mr. G. R. Roberts, Dr. Hamilton, Dr. George, Capt. Wright, Chief Constable Harriss, Rev. W. J. Locke, Rev. A. R. Tomlinson, Rev. T, H. Hastings, Rev. F. G. Tizzard, the Vicar of Lancaster (Rev. J. U. N. Bardsley), Rev. F. W. Clayton, Rev. H. A. Watson, Rev. F. W. Griffiths, and the Mayor of Lancaster. – On the motion of the Rev. W. J LOCKE, seconded by the Rev. H. A. WATSON, it was resolved that the above-named gentlemen form the nucleus of the association with power to add to their number.
Mr. H. L. Storey was unanimously appointed president, and the following executive Committee was elected :–Revs. W. J. Locke, H. A. Watson, F. G. Tizzard, T. H. Hastings, Dr. George, Capt. Wright, Mr. T. W. Helme, and Chief Constable Harriss.
Mr. BEETON raised the question of finance, and promised to submit a subscription scheme to the next meeting. He was pressed to continue the secretaryship of the new association, but said that during his vacation from the Grammar School he was away from Lancaster, and correspondence had reached him when he was in a distant part of West Prussia too late to answer.– A discussion followed this announcement which was received with regret, but Mr. Beeton promised to co-operate with Mr. R. E. Wright, who was appointed secretary pro tem. until a successor could be found. -Cordial thanks were expressed to Mr. Beeton for his efficient services.
It was stated that the bounds of the Association were the Lancaster Parliamentary Division, together with Carnforth, Warton and Bolton-le-Sands. Garstang had been absorbed by the Preston district.
On the suggestion of the CHAIRMAN it was decided to write the Town Clerk and offer to help in the Coronation festivities in any way the Scouts could.
The Scout Masters were asked to consider the question of attending the "King's Rally" on July 4th.
The RURAL DEAN put the old Church House at the disposal of the Association for meetings.
Replying to a vote of thanks, the CHAIRMAN said he had found there was something to do, but it was a great relief to know that they had got a representative executive.
Mr. BEETON said it was the last town of that size in England to form an Association. With their assistance that stain had been wiped out.
Mr. GARNETT invited the Scouts to Quernmore Fete, which would be held in his park on June 14th, and hoped they would give a demonstration. He intimated that he was not going to wear uniform as Commissioner, and said he could not get into his Deputy Lieutenant's uniform. (Laughter.) Still he wished the Scouts to recognise him when they met. If he could help them by giving them permission to come over his land he would only be too glad. When he was first asked he was in doubt as to what they would do in a 110 acre wood, but now that he knew the Scouts he had no fear.
Mr. BEETON said that landowners feared their game would be disturbed
The CHAIRMAN said they had 4,000 "Terriers" over his land last year and the game was in the same place a fortnight later. It did not matter about the game. He had as good sport after the Territorial camp as before.
Mr. BEETON said such a statement would help the Scouts tremendously.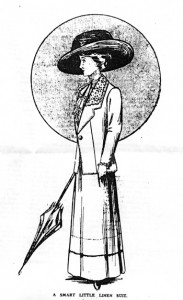 For the ladies – an illustration from another page in that week's Guardian showing fashion of the time "A Smart Little Linen Suit".