The Guardian, Friday, 21 July, 1939
A Scout Hero
"V. C." FOR LANCASTER BOY
Displayed Gallantry in Illness
SEVENTEEN-YEARS-OLD Boy Scout Samuel Cooke of the 16th Lancaster (St. Paul's) Group, was a shy hero on Friday night. Lying on a bed in the Royal Lancaster Infirmary, where he recently had a foot amputated, Sam heard his conduct during a long illness described as "gallant, heroic and cheerful".
SEVEN YEARS' ILLNESS.
He was the centre figure in a brief ceremony, when the Mayor of Lancaster, (Coun. Mrs. Musgrave Hoyle) presented him with the Cornwell Badge, the scouts V.C awarded him, as reported in last week's " Guardian," for his bravery during an illness of seven years. He is suffering from spasticity of the legs. Since the illness began seven years ago he has been in hospitals at Liverpool, Manchester, Windermere, and finally at Lancaster. His father is a well-known Lancaster business man and Sam had resided with his uncle and aunt, Mr. and Mrs. Bond of 39, Bridge Road, Lancaster.
The Cornwell Badge, of which there are only two holders in the North-West County Division of the Scouts movement, was instituted as a memorial to Jack Cornwell, the London Scout, who was awarded the V.C. at the Battle' of Jutland.
A PLEASANT SURPRISE
The Mayor handed Sam the bronze medal inscribed with the letter " C," a cloth replica which will be sewn on his Scout's uniform, and also provided a pleasant surprise for him when she gave him a large basket of fruit.
Those present at the ceremony included Captain John Welch (Infirmary President), Mr. and Mrs. W. Cooke, (the boy's parents), Mr. and Mrs Bond (his uncle and aunt), District Scout Commissioner, J Dodds Drummond, Group Scoutmaster the Rev. H. Hardman, Scoutmaster E. Whittle, Scouts N. Whittle and G. Fairweather (St. Paul's), Mr. L. H. Slater (Handicapped Scouts' Section), Miss K. M. Clarke (Matron at the Infirmary), Dr. J. A. Gibson, Ald. W. Procter, Messrs. J. Howie and C. Whiteside, (Infirmary Management Committee), Mr. F. A. Milne (Infirmary Supt. Secretary) the Rev. D. Birney (Vicar of St. Paul's, Scotforth) and Mr. V. Smith.
Captain Welch welcomed the Mayor and District Commissioner Dodds Drummond, who apologised for the absence of County Commissioner T. W. Helme, who is attending the Rover Moot in Scotland, gave a history of the Cornwell Badge, and said the occasion was a memorable one for it had never happened in Lancaster before and it was only the second time it had happened in the North-West County Division for a Scout to be given what was familiarly known as the V.C. of Scouting, the Cornwell Scout decoration, which had been won by their Scout, Sam Cooke.
"GALLANTRY, HEROISM AND CHEERFULNESS."
He had been awarded the decoration for gallantry, heroism and cheerfulness under most trying circumstances which he did not want to enumerate. They could take it from him, however, that if any boy won that decoration he had jolly well deserved it, and Sam had jolly well deserved it.
Describing the badge, Mr. Dodds Drummond said the letter "C" inscribed on it, meant not only "Cornwell", but also the courage which made Cornwell a hero.
PRIVILEGE FOR MAYOR.
The Mayor handed the decoration to Sam and said it was a great privilege for her to think that during her year of office she had the pleasure of giving him a badge which, she knew, he deserved so much. It was very gratifying to her and to everybody in Lancaster to think there were boys like him upholding and displaying the greatest courage possible under very trying circumstances and she was sure that all the Scouts and everyone who knew him were really proud of him. She hoped he would recover to be able to be a really outstanding example to those in every walk of life. The Mayor was thanked for her task by Mr. Drummond and Group Scoutmaster Hardman, who also thanked the Matron and staff for the facilities they had given to the Scouts to visit Cooke
---
Lancaster Guardian 24 May 1946:-
Obituary
MR. W. COOKE
A personality well known in business circles in Lancaster over a long period of years, Mr. Wm. Cooke, died suddenly on Sunday after having been at business the previous day. Mr. Cooke was the son of Mr. Samuel Cooke who established the business of gentlemen's outfitter and hatter which had been continued by the deceased at 6 and 8 New Market Entrance until his demise.
Mr. Cooke, who was 65 years of age resided at 14 Mount Avenue, Morecambe. In his younger days he took an active interest in sport, being a playing member of the Lancaster Shop Assistants Team, and in later years a member of the Management Committee, of the Lancaster and District Wednesday League. At the outbreak of the war of 1914 – 18 he was sworn in as Special Constable and he continued his active association with the force until 1942, when he resigned, being at the time a Sgt., and a very popular one.
Interested in Freemasonry Mr. Cooke was a Past Master of the Duke of Lancaster Lodge, a member of the Lune Lodge, and a P. Pr. GDC of the Provincial Grand Lodge. He was also a social member of the Morecambe Golf Club and a member of the Bare Institute.
Mr. Cooke is survived by his wife, one son, Mr. Samuel Cooke, who is the holder of the Scouts VC, and two daughters. His brother Mr. S. Cooke, is District Traffic Agent for the LMS at Castle station.
At the funeral on Wednesday a service was held at the home, conducted by the Rev. Murdo McLennan, prior to the interment at Scotforth Cemetery, Lancaster. Following the service the Masonic service was conducted by W. Bro. J. W. Green.
Chief mourners were: – (listed).
Among the floral tributes were those from the members of the Bare Institute, WM and brethren of Duke of Lancaster lodge, Lune Lodge and Rowley Chapter.
Lancaster Guardian, Friday, May 1, 1953:
Cornwell badge holder
Sam Cooke, of the 4th Lancaster Scout Troop, photographed with Colour Parties of other troops after the St. George's Day services on Sunday. Sam received the Cornwall (sic) Badge for fortitude in 1937.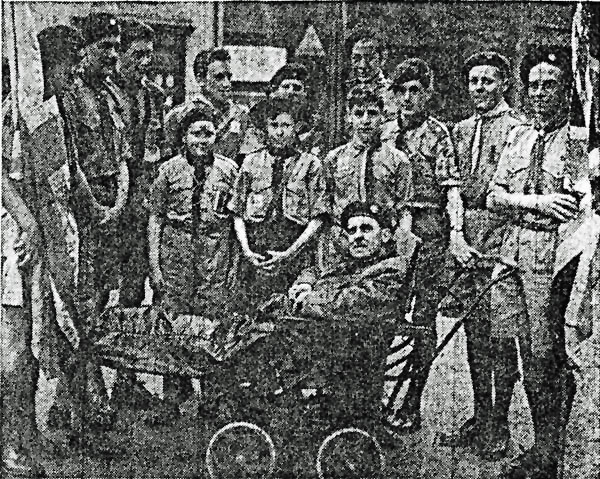 ---
Lancaster Guardian and Lancaster Observer
October 4th, 1963:
Scout bravery award winner dies at 42
PROMINENT member of the Scout movement in Lancaster, Mr. Samuel Henderson Cooke died at his home, 39 Bridge Road, Lancaster yesterday at the age of 42.
He started Scouting as a Cub with the 16th Lancaster pack.
In 1939 he was awarded the Cornwell Scout Badge for bravery under continued suffering while in Lancaster Royal Infirmary. The presentation was made by the then Mayor of Lancaster, Ald. Mrs. H. L. Musgrave-Hoyle. When Mr. Cooke left hospital, the Lancaster Association of Boy Scouts arranged a rota system whereby Scouts visited him at his home daily. Among his visitors for many years was Hon. District Commissioner, Mr. R. E. Wright.
In recent years he was a Rover Scout with the 4th Lancasters, and up to the time of his death, was an examiner for the Wolf Cub stamp collector badge.
The interment will be at Lancaster cemetery on Monday.
Notes: Samuel Henderson Cooke was born on 22 Jul 1921 son of William Cooke & Mary Ellen Henderson. In 1939 he was living with his uncle & aunt Robert J & Ethel Bond.
Sam's Cornwell badge is on display in DHQ.