Lancaster Guardian and Observer, Friday, 10 January, 1947
A Scouting link of many years standing has been severed by the resignation of Group Scoutmaster S. T. Whalan, of Nether Kellet, as Group Scoutmaster of the 1st Carnforth Group Boy Scouts upon his appointment as Station Master at Lowgill, Westmorland.
Mr. Whalan, formerly attached to the Greystoke Troop in Cumberland, formed the 1st Carnforth Boy Scout Group in 1928 * as a Wesleyan Group attached to the Methodist Church. It later became an "open" group and increased enormously in size and strength. With a Cub Pack and Rover Crew added, and also the able assistance of Scouters G. Askew, J. Wood, E. Wright and A. Tindall, there were over 100 members in the Group.
During the war years the Group did much work in collecting paper and salvage, and acting as A.R.P. messengers, and casualties in the Civil Defence Services.
A "Senior Patrol" was formed and no less than 30 Scouts were called into H.M. Forces; two of whom, Sergt. K. Keenan, Royal Artillery, and Flight Sergeant John J. Martin, R.A.F., Pathfinders, made the supreme sacrifice.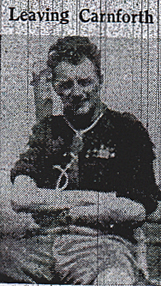 A PROSPEROUS GROUP
The 1st Carnforth Scout Group has its own headquarters at Carnforth and also a Rover Den at Capenwray, (sic) and a bank balance of over £100 for "extension purpose". The Scout Section is left in charge of Assistant Scoutmasters M. Hind, and A. Corless, and the Cub Pack under Mr. J. Cross with the assistance of Mr. Gordon Lowther.
* However, see also First Carnforth Troop 1911
Notes:
1. Samuel Thomas Whalan was born in Stroud, Gloucestershire in 1906. He married Elizabeth Robinson in 1943 at Nether Kellet Congregational Church.
2. According to the CWGC website Flight Sergeant John James Martin, Royal Air Force Volunteer Reserve 83 Sqdn., died on 29 Jan 1944, age 22. He is buried in the AABENRAA CEMETERY, Denmark. He was the son of Arthur and Emily Laura Madeline Martin, of Carnforth.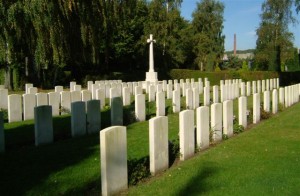 Lancaster Guardian 13 May 1938:–
CARNFORTH
Carnforth Rover Scouts are busy re-decorating and painting their club headquarters. At a special meeting of the 1st Carnforth troop the following passed their Tenderfoot tests: D. Haddo, J. Wildman and R. Edgar. The following passed the Second Class tests: K Bagguley, H. Bagguley, E. Baines, A. Fallowfield and H. Tyson.
Lancaster Guardian 18 June 1943:
Well-known Scoutmaster Weds Kellet School Teacher
Among many Whitsuntide marriages in Lancaster and the surrounding district, was that of Scoutmaster S. T. Whalan, Carnforth, and Miss Elizabeth Agnes Robinson, a Nether Kellet school teacher.
Both bride and groom are well known in Scouting and scholastic circles. Mr. Whalan is the eldest son of Mrs. E.A. Whalan and the late Mr. Thomas Whalan, of Prince Avenue, and his bride is the youngest daughter of Mrs. and the late Mr. William Robinson of the Bungalow Nether Kellet. They were married on Saturday at Nether Kellet Congregational Church by the Rev. C. Wesley Garratt.
The bride is a teacher at the North Road Council School, Carnforth, and is on the Lancaster and District Congregational Lay Preachers Plan. For the ceremony she wore a period dress in ivory satin, (Continues)
Mr. E Hobly, of Penrith, was the best man, Mr. M. K. Whalan, groomsman, and Pte. R. S. Whalan RASC and Mr. T. Parker of Skelton, were ushers.
The bridegroom is Group Scoutmaster of the 1st Carnforth Boy Scouts, Layman in the Lancaster Methodist Circuit, assistant superintendent of the Carnforth Methodist Sunday School, and District Signalman on the LMS railway.
The 1st Carnforth Boy Scouts, under Assistant S.M. M. Hind, formed an archway with their scout staves as the couple were leaving the church, and the 1st Carnforth Cubs, under ACM's M. Wilson and A. Postlethwaite, the Scouts and Senior Patrol under Patrol Leader T. Cocks formed a Guard of Honour. A reception was held at the County Hotel, Carnforth and a social was also held in the Nether Kellet school room for the villagers and young people of the district. The service was choral and amongst the 100 guests present were the County Commissioner for Scouts Ald. T. W. Helme, JP, CC , teachers, staff, and scholars of North Road Council School, and 1st Carnforth Scout Group.
The honeymoon is being spent in Somerset. Mr. and Mrs. Whalan are making their home at Horsley, Nether Kellet.