Morecambe Bay from Warton Crag
From 'Scouting in Lonsdale 1908-1999′ – "Growth in the 1930's: Rover Scouts flourished, strongly supported by Tom Helme who was Rover Scout Leader at the 13th Lancaster and clearly had a major impact on the lads, several of whom went on to become leaders themselves. Three Rover Crews had well-used 'Dens', the 4th in Halton at 'Apple House', the 13th at Littledale Hall and later at 'Artleden', Morecambe at the Old Smithy in Scout Quarry."
The OS map below, from 1913, clearly shows the position of the Smithy alongside New Road and opposite the entrance to the quarry – now the Scout Cragg Holiday Park. The line of the former tramway, which passed close by the smithy, can still be traced heading towards the main railway line at Carnforth.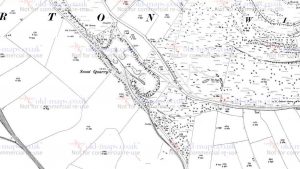 OS Map 1913
I visited the site today (5 Jan. 2018). Very little remains of the smithy/den despite it being clearly marked on the latest OS map. The area is considerably overgrown but remnants of external walls can still be discerned.
Morecambe Guardian 01 July 1939:-
SCOUT PARADE.
The Morecambe Rover Scout troop visited the Overton Parish Church on Sunday when a church parade was held. They were accompanied by Mr. P. Hughes and the Assistant District Commissioner, Mr. F. C. Wright. Following the service, which was conducted by the Rev. N. F. Tripp (vicar) there was an investiture of one of the scouts.
Morecambe Guardian 17 May 1957:-
Members of the Lancaster Rural District Council on their annual tour on Thursday last week visited (a number of locations).
After calls at Millhead to inspect the streets and Mill Lane, Warton, which it is proposed to widen, the party paused near Scout Quarry on the Silverdale road. This quarry was used as a storage place for poisonous gas during the last war and Mr. Docton told members that there had been a suggestion for the quarry to be used as a caravan site. From the point of view of the Council there could be no objection to an application, he said, for the caravans would be completely hidden from view.
A big problem would however be the provision or water, a supply of which was not easily available, and to lay on water would be very expensive.